Lakes Sky Ultra™ Training Weekend - General Mountain Skills, Scrambling and Basic Navigation - 13th & 14th May 2017
#Stop Press - We're really excited to confirm Paul Tierney aka: Missing Link Fitness will be hosting another Nat Move and Nat Run session at the LSU Training Weekend! 
More details coming soon.... 
Dates for the Lakes Sky Ultra™ Training Weekend are:
13th & 14th May 2017

The weekend is designed to give folk additional mountain skills and confidence away from obvious trails and paths, whilst also acting as a reconnaissance of the graded scrambles on the Salewa Lakes Sky Ultra™ course.

The course will be hosted by Mountain Run, headed up by Charles Sproson (RD and Lakes Sky Ultra™ creator) with his many years of experience in the mountains, from leading navigation courses and Skyrunning™ training weekends to climbing up to grade E3 summer & Grade VI winter.


Saturday will focus on skills and looking at moving safely on steep ground. Missing Link Fitness will be hosting a Nat Move and Nat Run session and we will get chance to cover some uphill and downhill running techniques as well. There will also be a chance to familiarise yourself with the course markings that will be employed on the race and there will be some time spent on navigation for runners, but only a basic overview. There will be an opportunity to review the activities of the day which will be followed by an informal talk from Team Nutrition (partners of the race and suppliers of the feed stations). The talk may vary for 2017, depending on what we line up for you, but expect an informal but informative talk by either one of the Lakes Sky Ultra™ sponsors or a top level Lakeland/Skyrunner.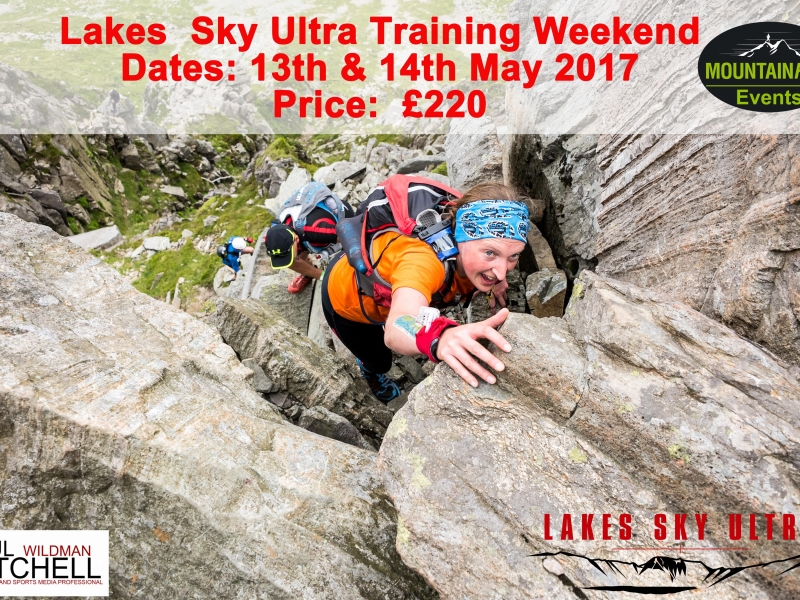 Sunday will start with a quick recap of Saturday and then a guided run over the main sections of the North-West corner of the Lakes Sky Ultra™ course. We expect to be on the fell for around 6 hours and will cross Striding Edge, descend Eagle Crag via the NE Ridge of Nethermost Pike and ascend Pinnacle Ridge. The day will finish with a brief recap and a review, in general, of each individual's abilities on exposed ground.
Costs & Accommodation:
The cost of the course will be only £220.
Booking: 
Included in the price will be accommodation at the YHA Helvellyn, plus an evening meal Saturday night, at the Travellers Rest. Breakfast is served on Sunday morning courtesy of the Helvellyn YHA. This is so all course entrants are in the same location, meaning we can all have a great chin wag and a few beers on Saturday night!

If you require accommodation on Friday evening please let us know & we can arrange this for you.
Timetable:
Arrive Friday evening or by Saturday morning 8:00.
Saturday
08:30 Meet/Greet and explain the plans for the weekend.
**09:00 – 12:00 -  A three hour session with Paul Tierney, who is Missing Link Fitness. 
Paul is Lee Saxby's master coach in the UK. He is a qualified 'Born to Run' movement specialist. He focuses on movement outside if the running cycle and also during the running cycle. This session will get you moving in ways you haven't for a long long time. 
12:30 until 17:00 On the fell. We will be on the fell, working on skills so warm clothing will be the order of the day as opposed to single layer running clothes, obviously this is weather dependent! We have had amazing weather for the last few years. You will also be required to bring your own food for the day. We will cover the following topics during the day:

Confidence on rough/steep ground.
Nat Move and Nat Run movement skills with Missing Link Fitness
Navigation for runners (basic) geared around ability to self-rescue and navigate off the course by non-marked routes.
Uphill & Downhill running techniques.
Appropriate spare/emergency clothing.
Course markings.
Sound Mountain Judgement
17:15 – 18:00 Review of the Day
Q&A
Mountain Running Kit selection
Training
Nutrition
20:00 – 21:00/21:30 Evening talk or film
** Paul Tierney and Sarah McCormack will only be available on the May 13th.
Sunday
8:30 – 14:30ish: 6ish hour guided run to include race route along Striding Edge, descent off Nethermost Pike and through the Eagle Crag section, then an ascent of Pinnacle Ridge via the thigh murdering ascent, then joining St Sunday Crag to make our way back to the Helvellyn YHA.
14:00/15:00ish Finish and depart
Equipment:
You will need your usual mountain running gear, including aggressive soled footwear. However the following kit list will be requisite for the course:
Waterproof jacket & trousers
Spare L/S base layer, Primaloft layer or similar (NO COTTON).
Hat, Buff or similar.
Gloves.
Head Torch.
Survival Bag.
Whistle.
Hill food for both days.
Map & Compass – Harvey's Lake District 1:40000.
Race Vest/Small Pack to put it all in.
Please be aware we might not be moving very quickly at some points during the day, please account for this in your clothing selection & check the weather a few days before.