Winter Mountain Skills for Runners - January and February 2018
Learn how to be safe in the mountains during the winter months. 
There is a special mystique to running in the mountains in winter, the snow is such a magical transformation, yet it can be very dangerous unless you possess the necessary skill set to look after yourself. 
Mountain Run is based at the head of the Glenridding Valley giving us perfect access to Helvellyn and the Red Tarn Bowl. We have the most reliable winter conditions in the Lake District. 
We upload regular Winter Conditions Reports to our website, Facebook Page and YouTube Channel and spend the whole year waiting for winter conditions to arrive, once they have gone. 
Dates for courses: 
17th January 2018 
7th February 2018
14th February 2018
21st February 2018
Course Costs: 
£70 per person
We do have Kahtoola MicroSpikes and KTS Steels for hire at a cost of £5 per pair. 
We also have a selection of Salewa Axe's and Helmets should you not possess these as well at a cost of £5 each. 

Course Duration: 
09:30 to 15:30
What you learn: 
What equipment to take & how to use it
Self arrest with an ice axe
How to run in different types of running crampons
Different techniques of ascending and descending snow slopes
An understanding of snow pack and conditions
General safety in the mountains during winter.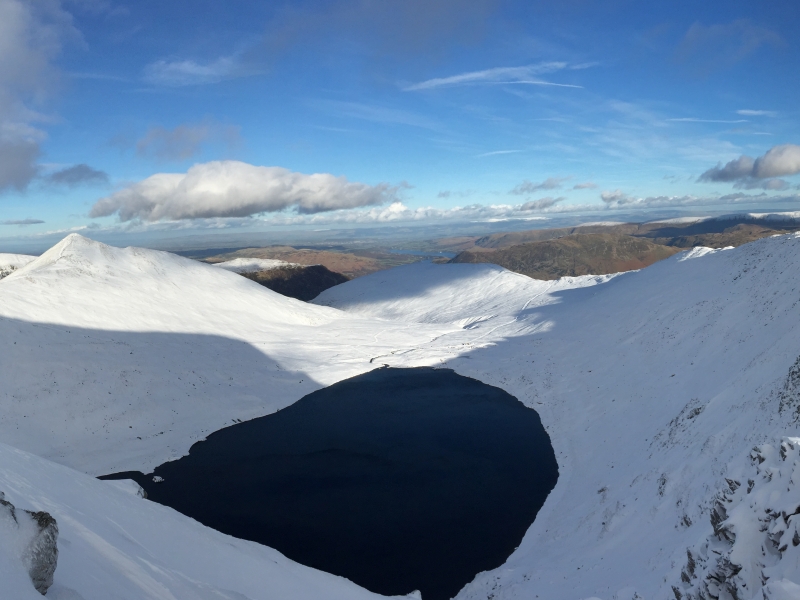 Course Details: 
Meet at Mountain Run HQ (In the Ullswater Information Centre)

Have a quick chat about conditions, equipment and skills. 
Head out to the Red Tarn or Brown Cove Bowl to practice. (Other local area's might be used, depending on snow cover and conditions)
Work on skills on route. 
You will also get the opportunity to get a run in the snow!
Equipment: 
Clothing to run in during the day (Tights, Base Layer, Mid Layer, Neck Gaiter, Hat, Gloves, Buff)

Old Waterproof Jacket and Trousers (older the better as you will be sliding down snow in them, so don't wear your best lightest race jacket)
New Waterproof Jacket and Trousers - These must be taped seems (Race versions acceptable)
Primaloft Jacket and Trousers - We will be spending time standing around, sliding on snow and more. You will need extra clothing to stay warm. 
Extra hat and gloves or mitts
Balaclava
Goggles
Light weight mountaineering axe
MicroSpikes and or Flexible Running Crampons
Light weight helmet
Good quality head torch with 150 lumens light output minimum. 
If you don't possess some of the above equipment, then please let us know. We do have a pool of equipment, but it is limited. 
We do have Kahtoola MicroSpikes and KTS Steels for hire at a cost of £5 per pair. We also have a selection of Salewa Axe's and Helmets should you not possess these as well at a cost of £5 each. 
Our Credentials: 
Mountain Run have a wealth of experience in the mountains. We have planned many Mountain Marathon and Trail Running events since 2011, including the SLMM, GL3D, Marmot Dark Mountains, Marmot 24, Berghaus Trail Chase, Rab Mountain Marathon and the Keswick Mountain Festival Trail Races since 2014. 
We are seasoned trail, mountain and fell runners. We climb in summer and winter, ski when the snow it good enough and enjoy all the mountain activities we can. We also love to mix up all the sports we love to travel fast and light in the mountains!
Helvellyn is our back yard, we know this area like the back of our hands and spend many days and nights running, climbing and skiing here. We also plan and direct the Lakes Sky Ultra in and around these valleys, using Swirral and Striding Edges amongst other technical ridges and area's for the course. This is England's most technical mountain trail race!

Minimum course numbers are 2, maximum are 5. 
We reserve the right to cancel the course if we do not hit the minimum numbers. We also reserve the right to stop you from attending the course if you do not possess the correct clothing and/or equipment.