Gift Vouchers - For Christmas and Birthday's
Looking for the impossible present or trying to reduce the amount of material presents you buy? Why not buy your love one, family member, friend or work colleague some skills that will serve them a life time.
We can provide you with a voucher for what ever the occasion and for what-ever the skills you would like to give, assuming we teach/coach them. 
See the list of courses below: 
Running & Scrambling Days - for one or two, come and scramble with your partner, its a great way to get to know a little more about each other




 "Thanks Charlie for the weekend out. We loved it. We also, found a new interest in running around in Inov8s the following day and poking those flopping toes into rock cracks for purchase. We can see ourselves doing a scramble with you once a year as a good investment. " - Graeme H, a regular client

Mountain Skills Days  - for one or more. Get a little taste of everything needed for traveling through the mountains; Navigation, Equipment and how to use it, Understanding weather and how to read the forecasts, Up and Down Hill Techniques and more. 
Skyrace Training Weekends - All encompassing weekend where you learn about what it takes to compete or complete such events like the Scafell Sky Race or the Lakes Sky Ultra, these skills obviously transfer to other sky races in the UK or further afield.  




"The weekend struck the perfect balance between getting in enough theory but still spending plenty of time out on the hills getting to grips with the terrain. The scrambling was definitely a highlight for me, loved getting up high on the ridges and I couldn't have felt more secure under Charlie's experienced guidance."
Victoria M 

Guided Running - Be guided as a group or solo around the Lakeland Fells or further afield if you so desire. 

I went for my first proper fell run with Charlie yesterday and loved it!!! I was really nervous having no previous experience of this kind of running but Charlie immediately put me at ease and was a fantastic guide throughout. The route was amazing and views breathtaking. Whether you are an experienced fell runner or a novice like me, I recommend Charlie and Mountain run. Thanks.....i will be booking again! - Sam C

Winter Skills Days - Be safe in Winter, don't end up a statistic with the Mountain Rescue Teams.
Navigation Skills Days - Learn to navigate and open a whole new world of running. 

I just wanted to thank you and Nicola for a very well run and useful course on Friday. You'll be pleased to know that I went up Red Screes on Saturday (visibility ~100m) and managed to safely navigate back to Ambleside along the ridge using bearings and contour awareness. Your instruction has given me the confidence to tackle these situations. - Peter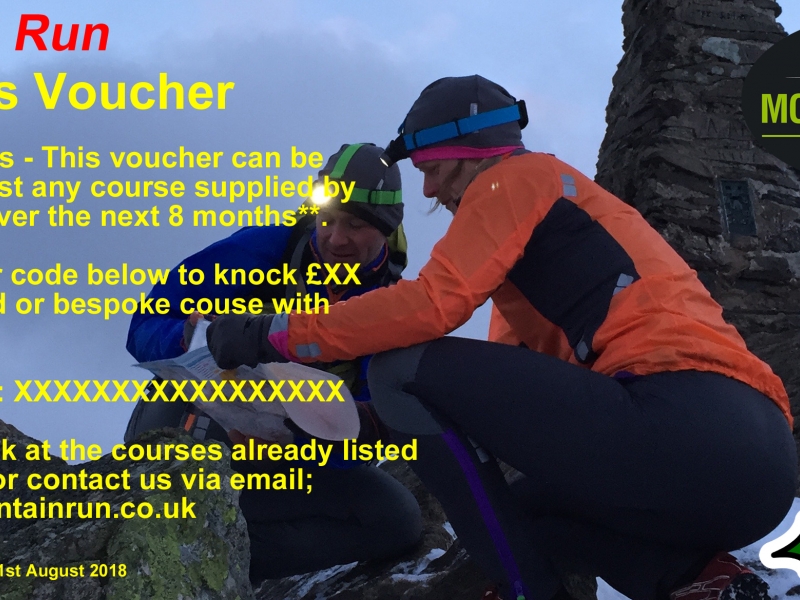 If you don't see what you are looking for in the above options please just drop us an email to ask, we are very happy to design bespoke days for clients and are very used to tailoring the day especially to you and yours.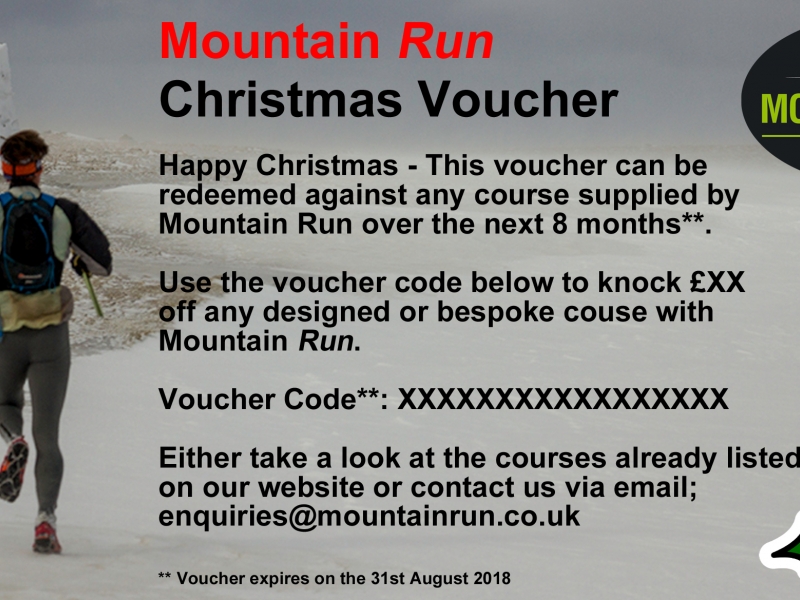 The way it works.
Decide what you want to purchase. 

Decide how much you want to spend. 
Drop us an email with your desires.
We will send you an invoice to pay directly, bank to bank, by BACS [you can request PayPal, but this will carry a surcharge, dependant on the value of the voucher].
We will send you the voucher, with the code printed on it, once you have made the payment. 
Put it in an envelope, wrap it in a small present or email it to your loved one, friend etc. 
Once they open it, direct them to our website, Mountain Run, or our Online Calendar so they can book a day, course or weekend directly with us. 
Sit back and smile at how clever you have been!