Navigation with a map & compass is a simple skill to learn. Its as simple as A,B,C.
In this new series of Navigation articles, we are teaming up with Ian Corless from Talk Ultra to produce a simple series of tutorials in conjunction with podcasted interviews to help guide you to navigate safely.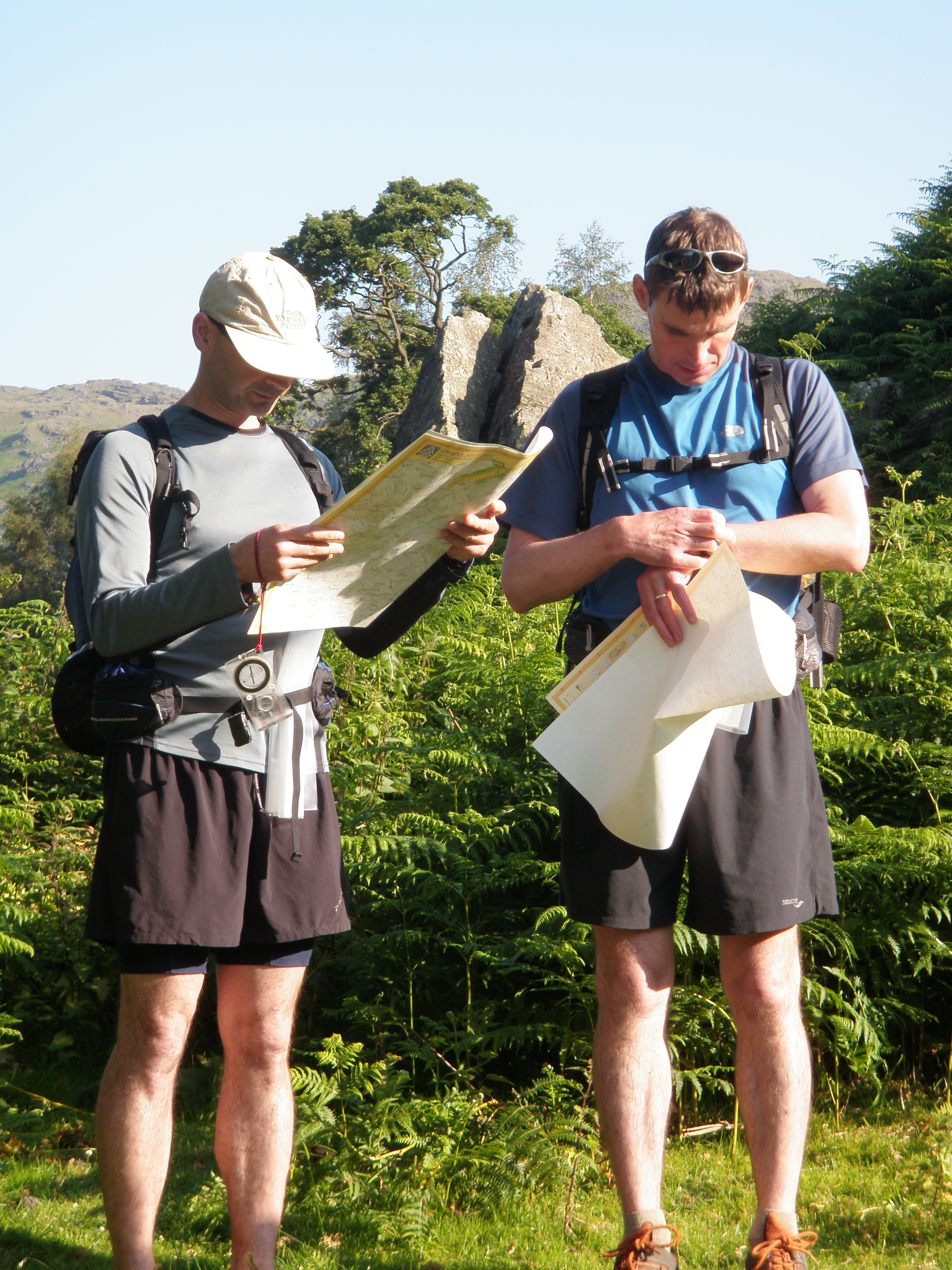 If you're heading into the mountains to explore the paths & trails, or you're visiting a new area, then a detailed map of where you are planning to go is essential. We recommend using either the OS 1:25'000 series of maps, or getting to grips with the Harvey 1:25'000 Super Walker Maps. Both offer great detail, one you'll love, the other you'll hate. Its a marmite thing. Once you have a handle on the 1:25'000 scale, we suggest you get to grips with the Harvey/BMC 1:40'000 maps, which are vastly used for Ultra & Mountain Marathon event formats. The most important thing here is to understand the map. Understand how the contours work & understand what the features represent on the map & then ultimately to be able to use your map, with a compass to navigate, come rain or shine.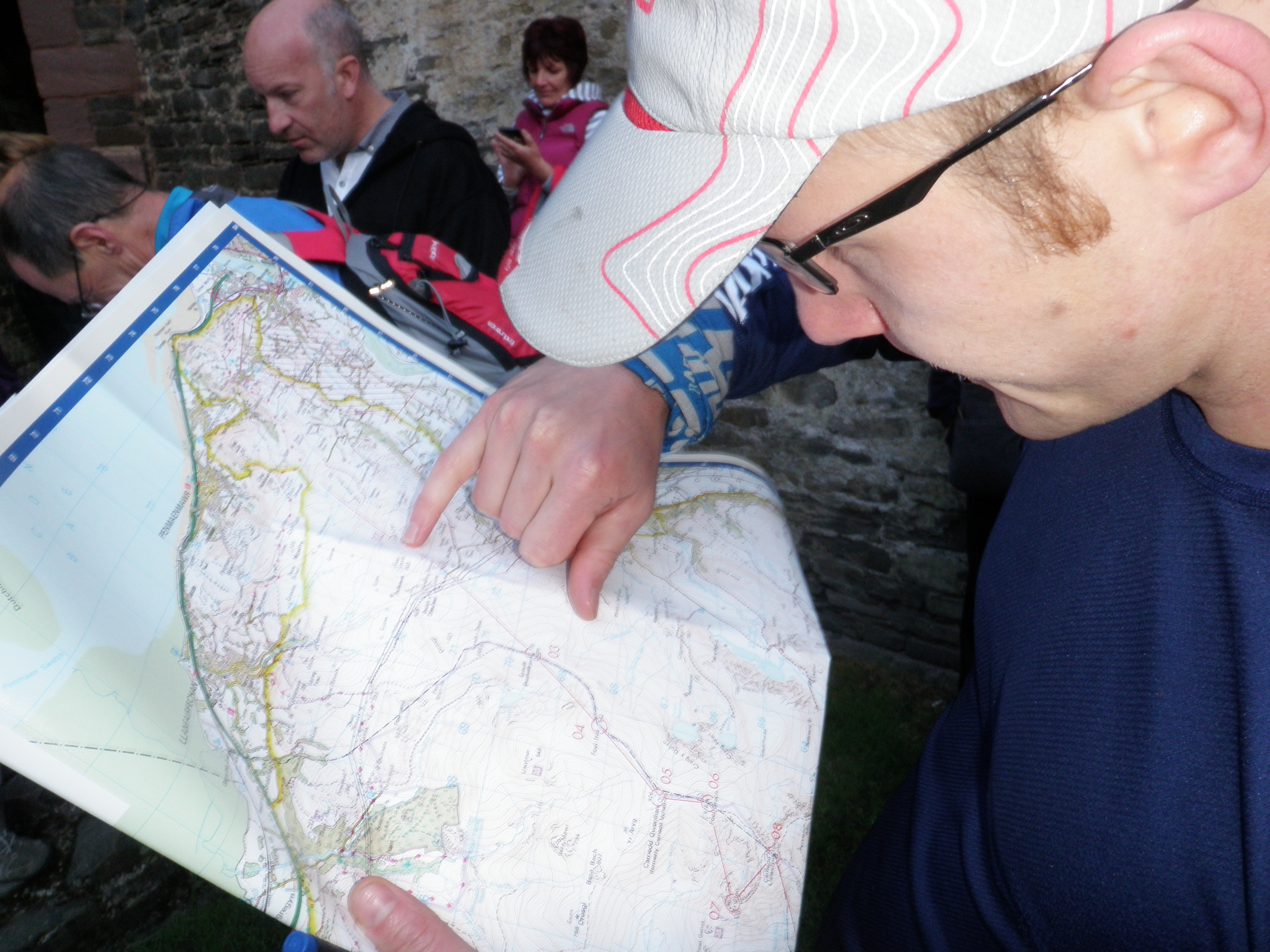 A compass is a device that has a floating magnetised metal needle incased in a plastic shell, surrounded by liquid. The needle responds to the Earth's magnetic field. Pretty amazing, but purely simple. There are plenty of options to chose from when purchasing a compass, for running, orienteering or walking, an orienteering compass is ideal. We advise going to somewhere, where the staff understand navigation well, like Pete Bland Sports.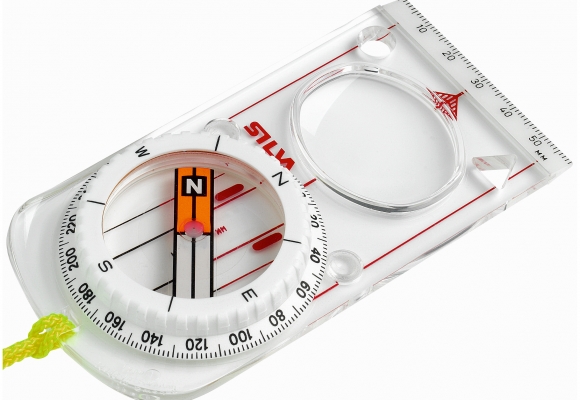 We recommend a compass with a magnifying glass; it's not essential but can certainly help when fine detail is required & a needle that centre's quickly. The Silva IS-360-Jet, but the Ranger series will do the job well enough.
Your compass will have:
A base plate, depending on your make and model, it may have a measuring device & look for roamer scales of 1:50'000, 1:40'000 & 1:25'000. Some events are now using 1:30'000 but you might need to adapt your compass to get this scale of roamer.
A rotating bevel marked with N, W, S, E and 360 degrees around the bevel edge.
A magnetised metal needle.
Lines running up the centre of the bevel base plate.
An arrow at the front showing the direction of travel.
A magnifying glass - not supplied on all compasses sop look for this feature when choosing the right one.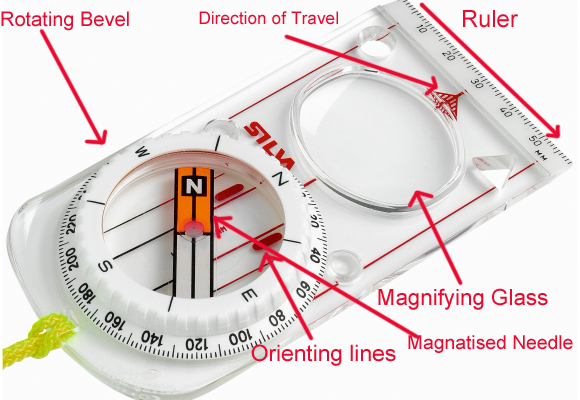 North (N), West (W), South (S) and East (E) are your 4 points of a compass making up 360 degrees and as you would imagine. Obviously they are 90 degrees apart making up the whole 360 (4×90 = 360).
Taking these four key navigation points one step farther, these degrees are also split into finer tuning such:
These 4 points of the compass can be slit into another 4 sections, giving 8 in total. The divisions are as follows:
North East (NE) – 45 degrees
South East (SE) – 135 degrees
South West (SW) – 225 degrees
And North West (NW) – 315 degrees
Understanding & familiarising yourself with these 8 points on a compass is a good thing to do.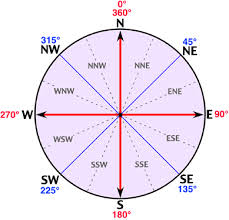 You can continue the breaking down of the compass into a further 16 points, for example: South South West (SSW) to West North West (WNW), but this is not really relevant right now for our purposes.
Taking a Bearing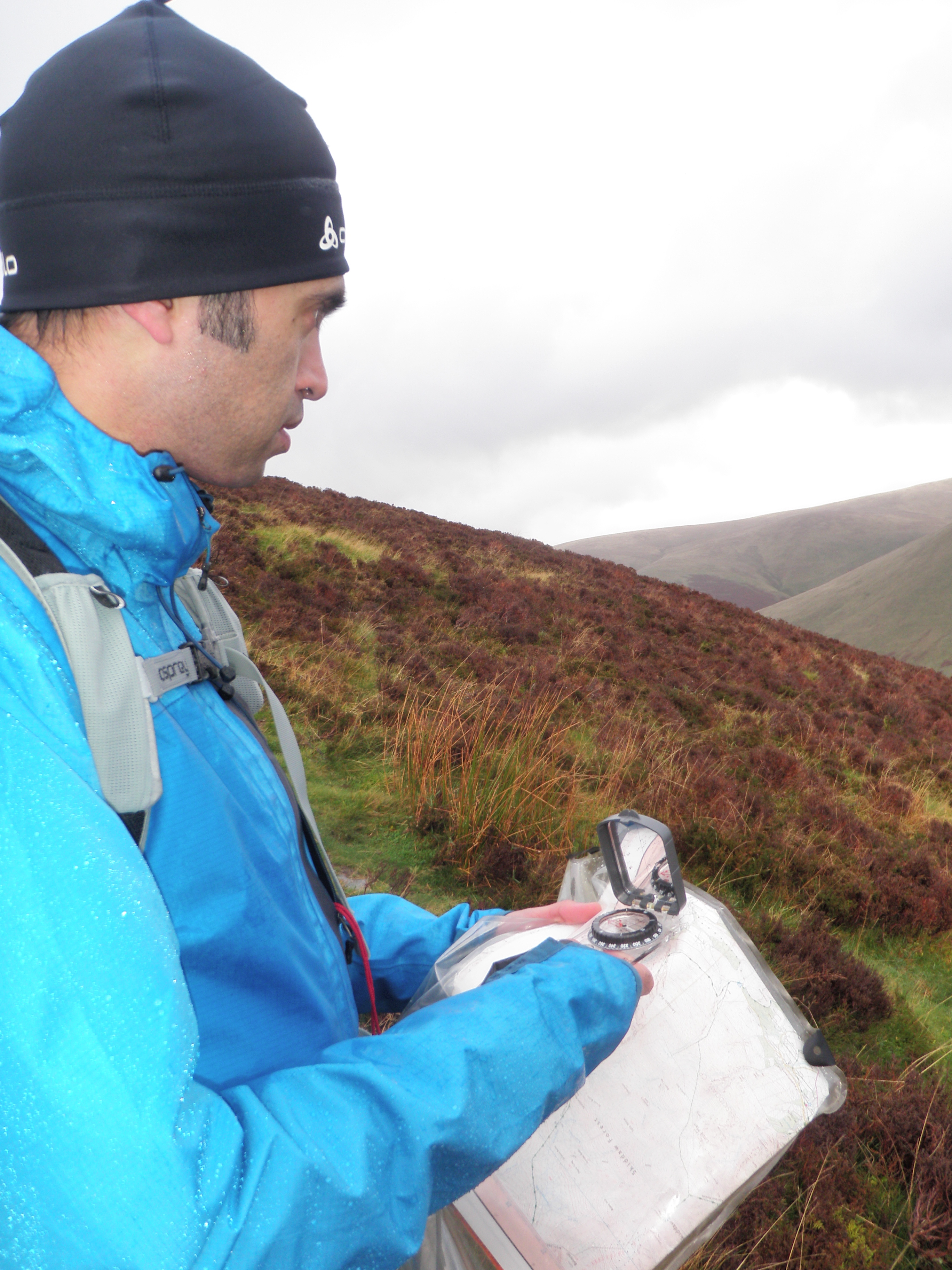 To get started, make sure you have the right map!! As discussed above, scales of 1:25'000 are great & hold plenty of detail for the novice navigator, but scales of 1:40'000 or 1:50'000 are suitable for basic navigation.
Golden Rule Number 1 - Orientate the map. Its a basic skill, but get it wrong & you'll be all over the place, literally.
This is done by placing the compass on the map in a northerly direction. North is easily found on the map, if you can read the text the right way up, you are looking at the map in a northerly direction. This does not mean it is orientated correctly though.
Place your compass on the map, lining it up with the north/south grid lines & then turn both the map, with the compass until the red tip of your compass needle sit's in the RED house like symbol on your bevel base plate. Make sure the RED house it pointing NORTH on your compass, i.e the front of the compass.
Now your map is orientated & what you see on the map, will match up to what you see around you.
To take a bearing you need to know where you currently are, point A and where you would like to go, point B.
To take your bearing you must know your location & you must have identified where you want to go. We'll call these Control 1 & Control 2
It's as easy as A, B, C.
A: Line the left or right edge of your compass from Control 1 to Control 2, making sure that the front of the compass is pointing in the direction of travel, Control 2 in this case.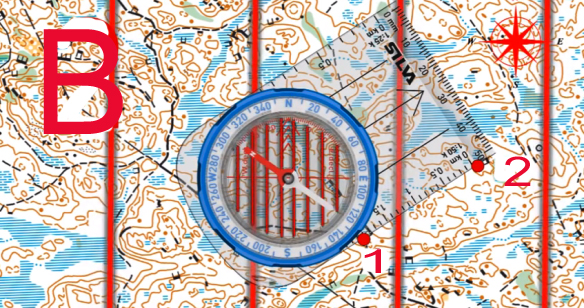 B: Turn the compass bevel until the North & Orienting lines on the bevel plate, match up with the North/South Grid lines on the map. Make sure you get this the right way round, as an error of 180 degree's is very easy to make. Remember RED house points north!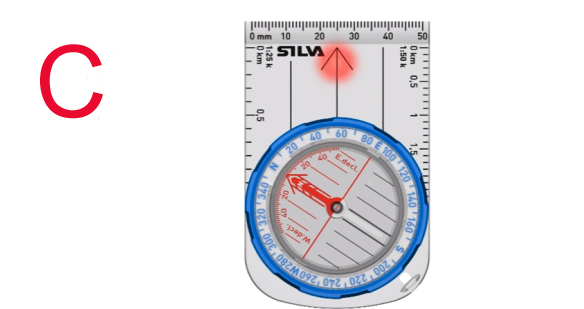 C: Now Rotate yourself with the compass in your hand until the RED needle sits in the RED House on the Bevel Plate. Check the bearing & then follow the direction of travel arrow at the front of the compass. Ensure as you travel, that the RED needle stay's in the RED House, this is how you stay on track!
Hints & Tips
Sit at home & look at your maps, before heading out in to the mountains, much easier to understand in the comfort of your own home where you have a controlled environment.
Know and understand the scale. 1:50'000 means that 1 centimetre on the map equals 50,000 centimetres (or 500 metres)
Maps have LATITUDE (East to West) and LONGITUDE (North to South).
Common Sense
Check weather forecasts and only adventure out when you are sure of clear weather. Once you have progressed and feel comfortable with your navigation, you can experiment in less favourable conditions. We advise cross referencing a few to get a TRUE picture of the weather. Try using MWIS, XC Weather & Met Check
Don't venture out alone. Safety comes with numbers.
Inform family, friends or neighbours your intended plans and provide a timescale.
Make sure you have clothing, food and liquid for the worst case scenario and be prepared.
It's great to test your limits, but to get your navigation skills learnt, you need to head out in good weather first. Then you can think about navigating in changeable or bad weather.
More information:
Ian Corless has worked in conjunction with ourselves to produce this article & will be hosting more podcasts with MountainRun on the subject of Navigation.
Ian is the creator of the excellent & massively informative Podcasts & media website TalkUltra, where he keeps the running world updated on everything to do with Ultra Running, worldwide.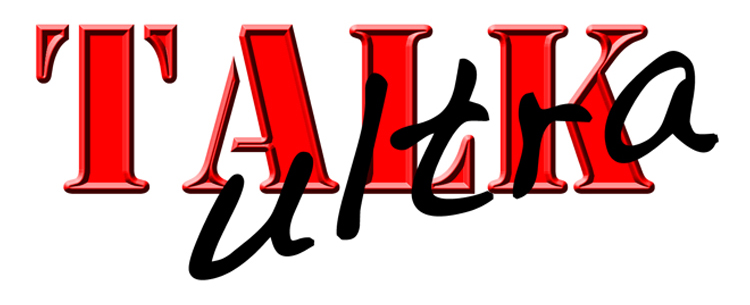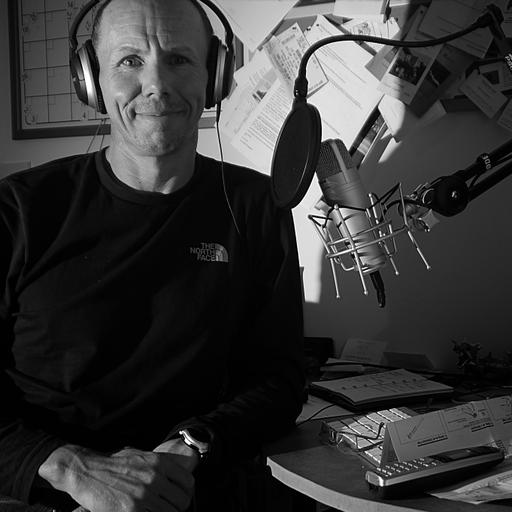 You can hear a full interview in episode 68 of Talk Ultra podcast 'free' on iTunes HERE (published Friday 22nd Aug 2014).
In conjunction with Talk Ultra's series of podcasts and informative documents, Ian (iancorless.com) & Charlie (MountainRun) plan to arrange a basic navigation day (weekend) in the English Lakes. Dates tbc. If you are interested, please email Ian Corless at iancorless@mac.com.