I met Damian Hall in a pub, in Edale hours before packing my bag, finally, to attempt the Spine Race in 2014. It unfolded that Damian was not a runner until 2012 that is, when he started doing half marathons and then marathons on the road. Before that he was a 'Long Distance Walker' and had written the guide book to the Pennine Way. 
I started running in 2003 I think. I hated it at school, I was the kid who cut the set run short. I never completed the full distance. 
Damian came 4th that year, in his first attempt. I stopped at Horton-in-Ribblesdale due to an injury. I'd set off too quickly and... well, thats another story and if you're interested, read it HERE
The Plan: 
So the plan. Well it seems quite simple after Damian jogged my memory as we traveled across the Northern Fells on Leg 1. 
Damian talked about wanting to do a Bob Graham Round (BGR) and how would he do it, living in Bath it would be a big commitment. Apparently I suggested I would guide him all the way round! Now usually stories like this are hatched and made in the pub, but this one seems a sober decision. All good then. 
We firmed it up on the phone sometime during the winter of 2015. We set a date, or at least decided the summer would be good. That was about it really.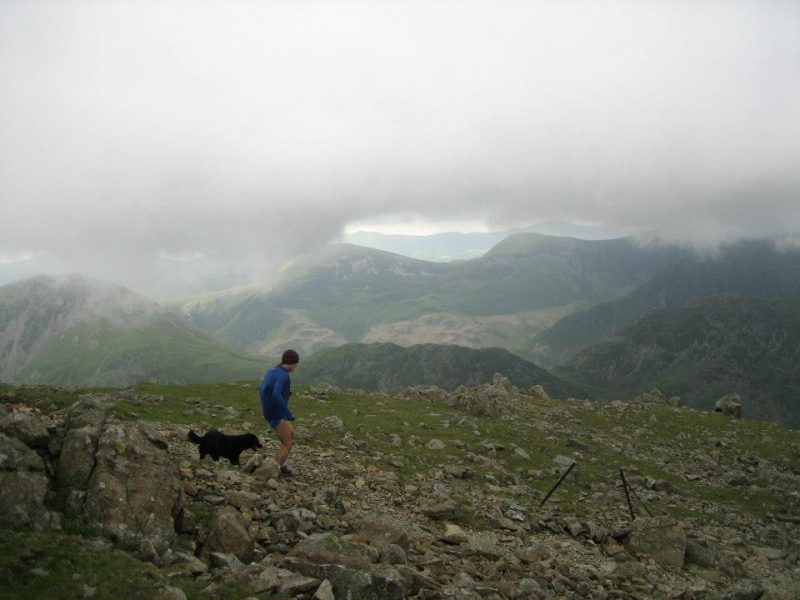 Some History: 
Rewind to 2006... I trained for 5 months with a friend, Chris Graham and my dog Scratch. Chris' work commitments at the time got the better of him and his training dwindled. I kept training and got to my fittest ever. I was lean, strong and pretty fast. 
Long story short - I set off on the 4th of July 2006 with Chris and Scratch at 02:00 to attempt 'my BGR'. I completed 22 hours and 49 minutes later with Scratch, who was the 6th dog to complete, according to 'Feet in the Clouds', in a style of mostly on-sight navigation for legs 3, 4 and 5, once practiced on leg 2 and twice on leg 1. I was supported by Chris on Leg 1, half of 4 to Green Gable and the run in from Newlands Church, plus Chris did all the road support. Two friends Boomer and Dan Hinton supported me from Honister, where they acted as road support there as well. Read more HERE
Back To The Future:
Ok, snap to it, we're back to 2016 and its the week before 'our BGR'. 
I had been putting this round out of my mind all Spring and now it was Summer. I was under trained, or so I thought and had picked up a knee injury in the V3K, only minor but a minor niggle before a BGR can be lights out! 
I know the mind set, I've been there before. I've done a DBR and came 12th= in 2012, I did a Lakes Classic Rock Round a few months before that..... not heard of this yet? READ MORE HERE and I've done my own BGR in 2006.. so the background is there.
For me the worst thing to happen in the run up to a round or long day out is a bad mindset, a lack of confidence or something like a niggle that can pull you down before you start. I expelled all bad thoughts, got some Bowen Treatment from Allan Brindley (who is amazing and has kept me running through many injuries for the last 5+ years) and concentrated on starting and finishing at Moot Hall. I was also honest with Damian about the fact I had a dicky knee. We discussed. I rid myself of ghosts. We let it fester for a few days. We spoke on the Friday prior to the attempt. It was on! 
No stress. No fluster. No messing.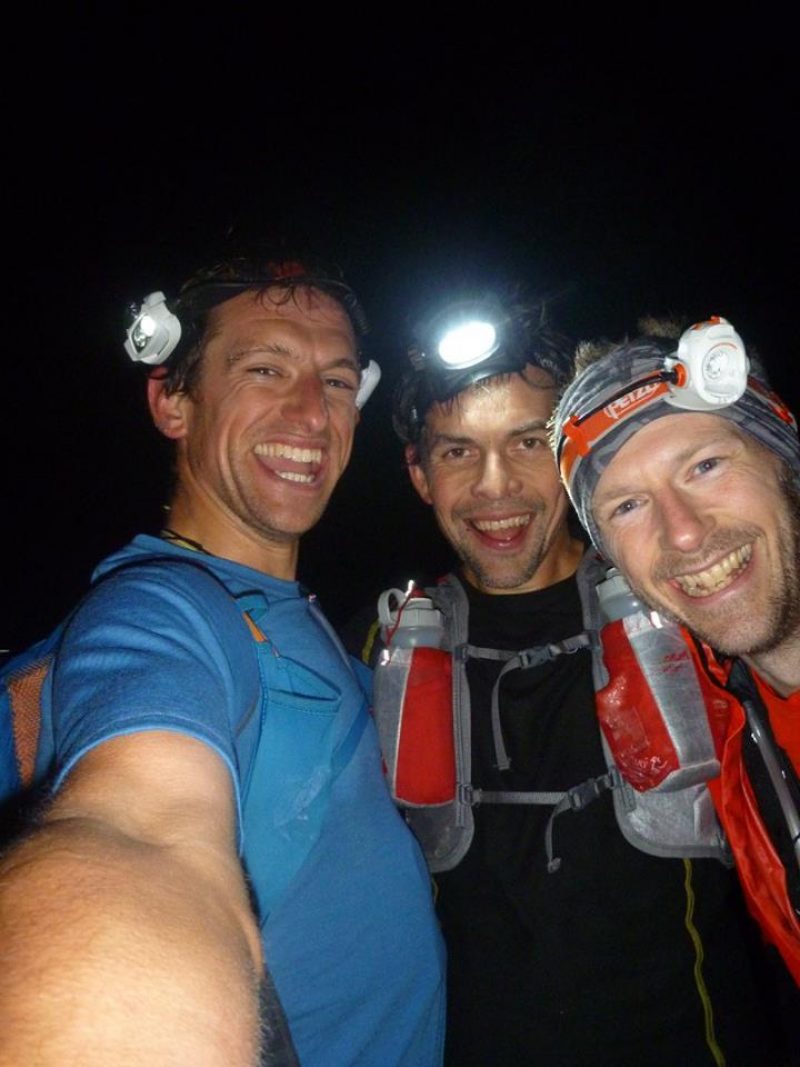 The Team:
Damian had got Mick Kenyon involved. He's a good photographer and operates under the banner of Racing Snakes. 
I got James Harris involved. He has a big smile and he's great company.. we were going to just do it without support, but James really wanted to come for a run, so we agreed on Monday afternoon (attempt day) that he would run Leg 2 with us, just for company, just for fun. 
I was the guide, the navigator, the experience. Damian was the legs, the drive, the fit one... he's just set the record for the FKT on the South West Costal Path. He's good. 
I on the other hand was feeling slow at the V3K, I sweated hard, I didn't perform my best. It wasn't my best warm up, but its all I had in the bank as far as a fitness test went, so I made it better in my head than it was. I lied to myself, I was convinced... well almost. 
So the scene is set. I'm not going to give a blow by blow account, I don't want you to yawn and sleep. I want to hand out the knowledge to you about how it all goes. 
This is one of the hardest challenges you will attempt and hopefully complete.. or is it?
The style: 
We would run together. I would nav, Damian would push and we would have road support by Mick Kenyon at Threlkeld, Dunmail, Honister and Newlands Church. Mick would meet us at Bowfell for a photo shoot. He might see us in the mountains elsewhere, but it wasn't discussed. 
Whoa there, what NO WASDALE? Shit... we had no road support here.. oh well, just suck it up and set the mind to an 11 hour push between road stops. That bast**d Yewbarrow. It was my nemesis last time, best make it my friend now. 
James Harris would run on Leg 2, but no nav-ing, no carrying... just talk and smile.. good old (young) James! 
The Deal:
The deal is you get 24 hours. You must reach every summit. You must be witnessed to join the club, hence I didn't in 2006 because no one believed Scratch... not sure why, he was a very honest dog... still, thats the deal. 
So what does it take?
Well first things first, you must have a good base fitness. Not in the gym, but in the mountains. Not a mountain runner or walker... get out and become one! A friend once told me (Ian Barnes come on down!), you gotta clock 10'500 feet per week for 6 months or more to complete. I work in meters now, so this is 3200m roughly. You can get away with 25 to 30 mile weeks. Its advisable to do a little more, but this seems reasonable to me. 
It doesn't all need to be running. Time on your feet going up and down mountains is the deal. Run some, walk some, have big days, have long days, stay consistent and you stand a good chance. 
Some say you must immerse yourself in the BGR. I guess its true, but what does this mean? Practice each leg until you want to puke on them... until they are etched into you mind, your psyche, your soul. Well for some yes, but for me no and I don't believe this is necessary. What is necessary is to just get the body and mind used to the hills, the terrain, the roughness, the culture. 
I'm a Mountain Marathon runner at heart. I used to train rough, I only used to run off trails. I've softened a bit now, but I still train rough. I love off the beaten track. 
I like to train often with a lack of water and food. I believe it helps the body when the going gets tough, helps the mind to accept pain and suffering. In fact, you need to make pain, suffering and rough terrain your friend. You need to immerse yourself in that. 
I'm not taking anything away from those who train on the round and etch it in to their minds, all I am saying is that its not the only way. 
Im lucky, I live in the Lakes, I've grown up here, I have spent the last 15 years getting to know every corner and especially in the last few years as I have planned races for Ourea Events, Keswick Mountain Festival and Mountain Run. This has helped me no end in covering rough ground whilst I haven't been racing really for a few years until the V3K back in June this year.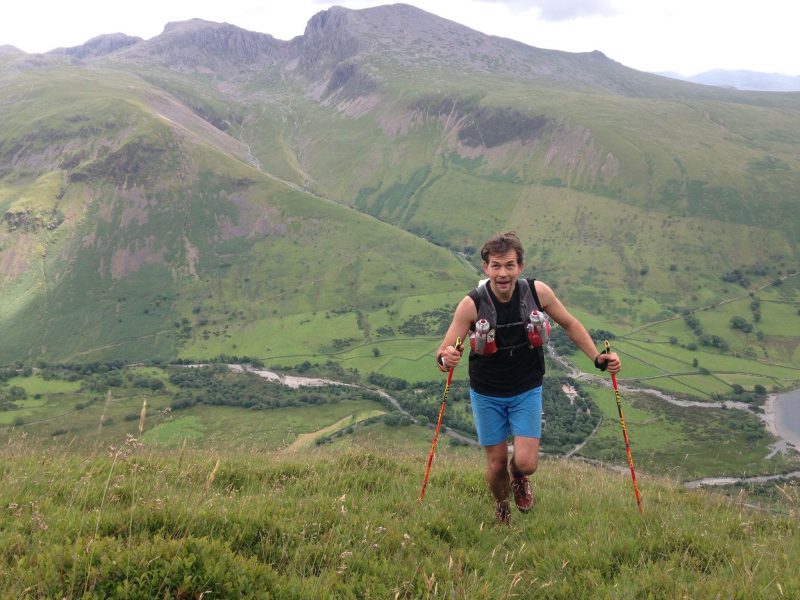 Poles or No Poles, Now that's becoming the Question!
Well 10 years ago I didn't. I was 33. This time I took poles from leg 3, I used them from the start of the accent of Bowfell from Angle Tarn. I know they saved my knees. I think they are great. I think they are even better if you get the skills of how to use then properly. Not sure? Get in touch! 
How is it done? 
Damian and I discussed this at length, we had 22 hours to do this. So what did we come up with? 
You need confidence, oodles of it. Confidence is KING. I use this statement training navigation. Confidence IS KING... CONFIDENCE IS KING!! ....now don't forget this. 
You need a good base fitness. You need good hill miles in your legs. You need to either know the course and/or to navigate well or you need a good team of supporters to help you out and help guide you round. You need to be strong in mind and body. You need to understand it will hurt. You need to WANT it so badly. You need to be CONFIDENT (oh, there it is again). 
I think the most common problem for people with anything in life, and yes I suffer this like the rest of us, is confidence. Its one of the biggest life skills of all. Most of all, you need to be skilled at mountain travel and you need to have a skilled team. If you don't have the confidence or time in the hills to know you have the best chance to complete, then delay and out more in the bank. 
The Mind Set: 
This is so important. You must approach any big challenge with the right mind set. If you don't, then you might as well not bother getting out of the car to start. 
You must visualise completion. You must visualise along the way. You must be honest with yourself and understand it will hurt. You must understand that pain is just transitory. You must understand that injury can stop things so make sure you are in good physical shape before you start and don't be afraid to change the date. 
You must set your head on starting, enjoying, taking it all in and completing within the 24 hours. It seems simple, but its a must. 
I lye in bed in the week running up to something like this and think about a positive outcome. Negative thoughts always come in, but you have to learn to change them, you have to learn to control them. You must dispel the demons! You MUST!
Breaking It Down:
Break it down in your head before you start. Its 42 summits, so take them one by one. There are 5 road stops/support locations, so use them to break it down. There is day and night, use it to break it down. You'll have friends to travel with, so use this to break it down. Never ever think of the enormity of the task and if you do, break it down. 
Speak to any good distance runner and they will tell you they break it down. Its how they cope with it. its how THEY complete. 
If it helps you to break it down by running each section and learning what is coming, then do this. It can be done without, but if it helps then do it. 
The Club: 
The BG Club has been going since the 70's. Its a group for those who have all conquered the BGR. 
Read the history HERE 
The club is there to help you and there are many folk who have completed or not, who are willing to get involved and help you achieve. Its an amazing feat of camaraderie and a real sense of human love. These people will often wait up all night, in not so great weather just to help you get round. They know the deal, they know how it feels and they love helping others. 
Other Methods: 
Solo Rounds: These are extremely tough and are reserved for those who love to suffer, who love introspection and who are bloody minded. You must be extremely self reliant. My rounds have been a little like this, but I've not done one completely solo. 
With your Mates: You got to know each other well and you have to know you are all capable. You have to accept that one might drop and you might be on your own. You have to be self reliant, but not really as much so as if you go solo or semi supported. 
Guided: Its not really done, but then someone has to break the mould. I've guided an unsuccessful attempt last year, unsuccessful due to weather. I advised my client it was best to postpone, as the weather would most likely stop us, but he wanted to try anyway. We stopped at Dunmail Raise due to increasing winds and rain. We had already slogged it for 9 hours, my guide number 2 wouldn't continue due to increasing dangers. It was the right decision. Read Joe Horne's feedback HERE
We can coach and guide you: 
Not everyone want to use the club or has willing friends and family to help. Times are changing and there are plenty of athletes out there ready to give it a go. 
We don't believe in taking your money and running...pun intended! We will only accept a guided attempt if we believe you have what it takes. Get in touch if you want to know more.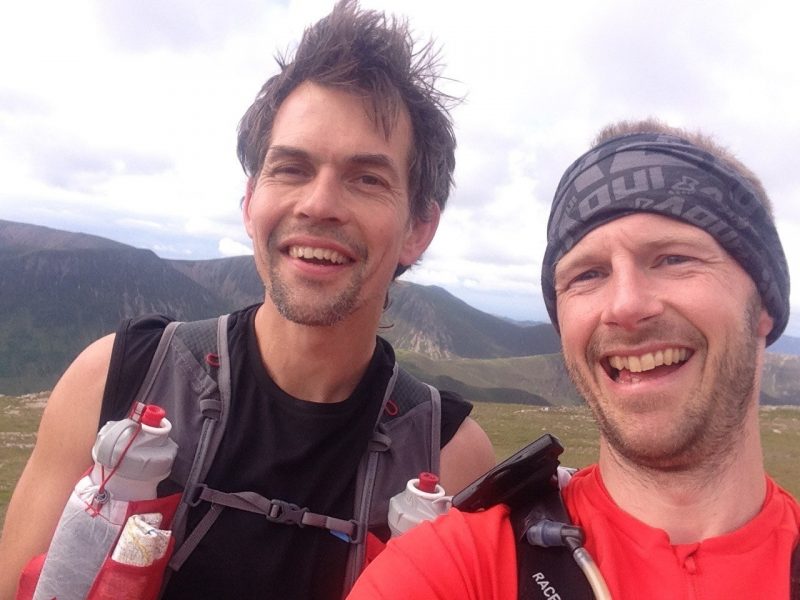 The completion: 
Damian is fit, but he'd never run any of the legs. I had done it in the past. Together we set out to get round, we had lose plans of 20 hours or less, but the aim was to get round. 
Leg 1 was great, but wet underfoot. The weather was kind, we moved the day to get the weather window. 
Leg 2 was tough to start, I suffered on the ascent of Clough Head and we hit the clag on Great Dodd. A few minor navigation errors along the Massif, but with the clag lifting after the summit of Helvellyn it gave us a real boost and made Fairfield seem almost easy. 
Leg 3 was hard, but the weather was great. A lack of concentration and local knowledge without thought meant for indecision on Seargant Man and High Raise, time was lost, but the day was amazing. 
Leg 4 was even harder because we had no road support in Wasdale, so stringing legs 3 & 4 made for a long stretch, but once Gable was cracked we knew it was done. 
Leg 5 was fast and furious and felt great. Its the run home and you just want to be done, so we had a quick shoe change at Newlands Church and ran the road like we were doing a 10k
We opted to start at 20:00, an unusual start time for sure, but then last time I started running at 02:00 and wondered why? Perceived wisdom is start late and finish late, but how many folk sleep well in the day? I figured this time why not set off at 20:00 and run the Helvellyn Massif in the dark. I know it well, its some of the easier nav and well, to be honest, I just wanted to try to trick my mind into thinking we were just going for an evening run and then just keep going. It was beautiful to be on the Langdale Fells as well on such a lovely morning, no one else around. We didn't see another sole until Scafell. 
We started at 20:06. We finished at 18:03, 21 hours and 57 minutes later. 
Not bad for a couple of bimblies!! 
Get in touch if you want to know more.... enquiries@mountainrun.co.uk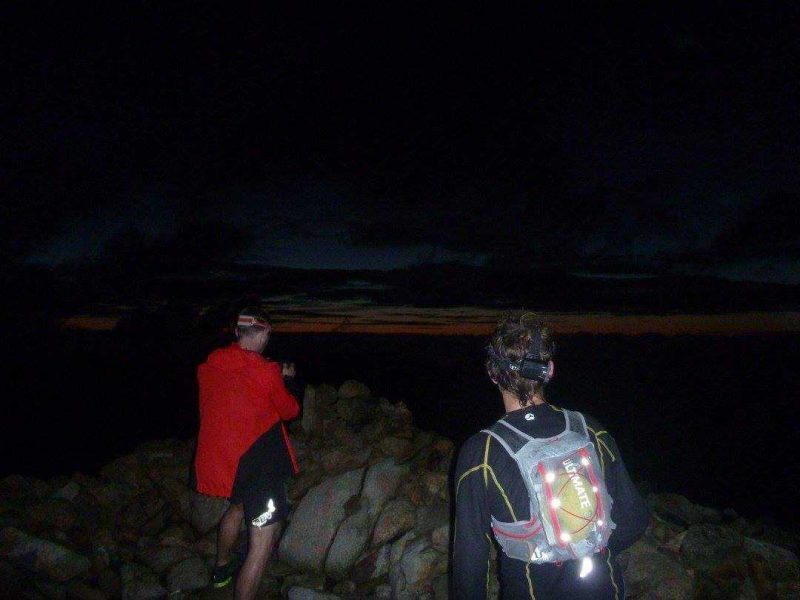 Thanks go to Salewa for kitting me out with clothing, equipment and shoes, Inov8 for the best grip in the mountains, Leki UK for supplying me with the best trail running poles out there, Team Nutrition for keeping me hydrated and caffeinated when I needed it the most. Mick Kenyon for taking photographs and James Harris for some great company on Leg 2. Of course a massive thanks to Damian Hall for having the confidence to book in with me and trust I could guide him the whole way round and get him up Broad Stand (we had other plans, but opted for this on the day), my wife (Nics Nordic Walks) of course for putting up with me being tired after a long day in the hills and my mother and father for introducing me to the fells at a young age, its not a bad addiction to have!