After not really racing on the Mountain Marathon circuit for the last few year, planning them for Ourea Events for several year on the trot and my wife having a baby at the same time which has taken its toll for racing, it was great to get back in the driving seat and test my skills with a partner on what is certainly the toughest nights navigational racing you can subscribe to the in the UK. 
Back in 2012, I was enlisted as the planner for the Great Lakeland 3 Day Challenge by Shane Ohly, its seems like a very long time ago now. During our time driving around from campsite to campsite during the event we had some great conversations and one that stuck in my head was the one about the Dark Mountains. It could have been pre-event come to think about it, during or post... who knows, memories obscure into one amalgamated memory over time. Shane talked about an idea he had to have an overnight mountain marathon, during the hours of darkness and he reckoned we could do this on the South West Fells of the Lakes, somewhere the courses of the 2012 GL3D had gone on Day 1. 
My first thought was, 'he's mad' and so of course I told him so. This just made him smile. So the Marmot Dark Mountains was born. I was enlisted to plan the courses and set to straight away to get this sorted so the event could be released in 2013 on the worst weekend that 2012/2013 winter saw, weather wise.
I spent hours toiling over courses and checking routes, running in the mountains at night, struggling between family commitments waiting for our son, Winter, to be born that December! 
On the last weekend in January I stood on the start line, after a week of heavy snow, and now extreme weather with torrential rain and very high winds blowing in from the South West turning the 30 cms of general snow cover across the mountains to slushy frozen concrete. I was fearful for the competitors, but true to the nature of the Dark Mountains competitors they all experienced severe conditions and yet each pair exercised what we in the trade call SMJ, or Sound Mountain Judgement. All competitors arrived back safely, many after only a few hours, 2 teams pitched tents and camped out and Shane and I had a nail bitting night, but all was under control and well. So went the very first Dark Mountains event. 
I subsequently planned the 2015 event in the Howgills and the 2016 event in the Northern Fells. 
Roll on to 2017. 
Planned by Gary Tompsett, an extremely experienced race planner/orgainser. It was obvious once the location was revealed it would be very tough navigation in places. The Dufton Fells are heather bogs on the tops, very difficult to navigate in the dark, with possible snow on the ground and then if its a white out it adds to the challenge somewhat and of course if you remove the only night lighting available called the moon... well... the 2nd placed Elite Team likened the navigation to being like "navigating in a pingpong ball all night", they weren't far wrong!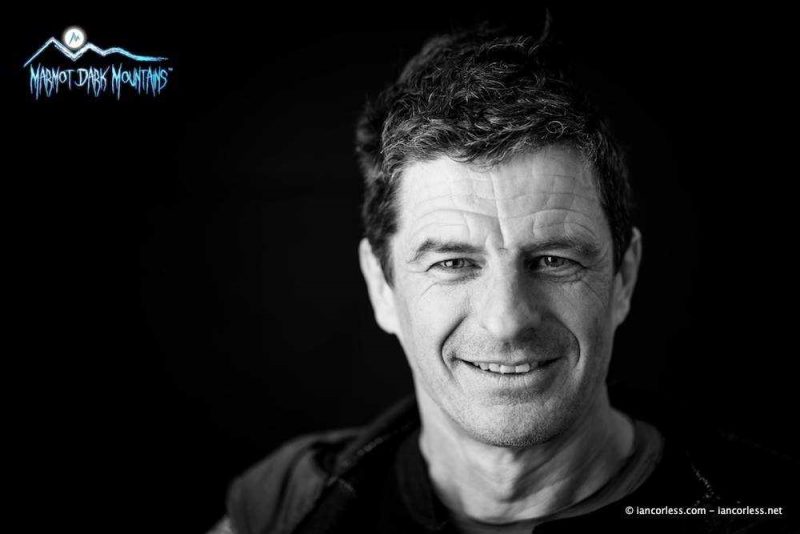 I know Tim Laney, my partner for the night, remotely through the events scene, he has been on plenty of the Ourea Events I have planned, plus we have a mutual friend Damian Hall, who put us in touch with each other. 
Tim is an extremely accomplished runner, having completed the 3 toughest rounds in the UK, being the Paddy Buckley, the Bob Graham and the Charlie Ramsay rounds, he's also done the Rigby Round in the Cairngorms which is completed solo and should really be done on sight. Tim is also a Summer and Winter ML qualified guy, with an IML (international mountain leader) qualification to his name as well, so he's no slouch, and can navigate well. We felt we would make a good team and we certainly did. 
We had never raced together, or for that matter run together, but so what, sometimes you know you can run with someone, I felt like this about Tim even though we had only shared brief conversations at either events or whilst racing each other at other events. We spoke briefly on the phone the week before the event to discuss kit options.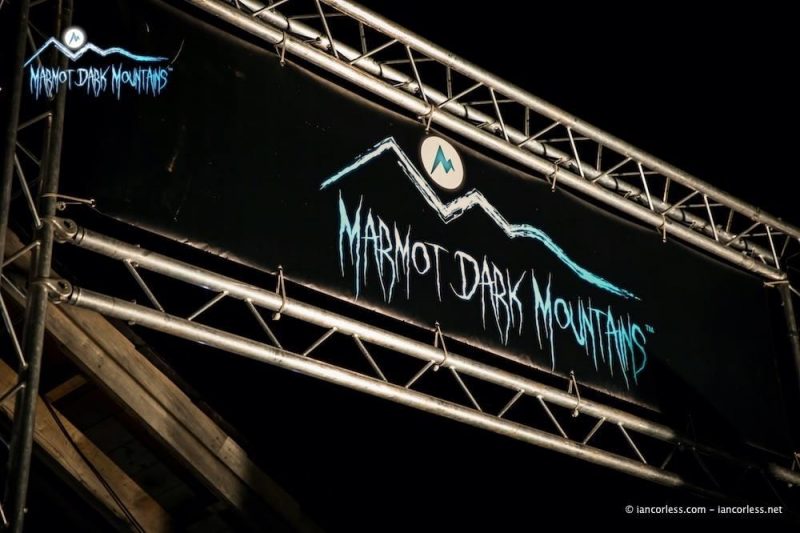 The Night!
Race day came, I spent the most of the afternoon feeling sick, wondering why and remembered it was only pre-race nerves. I felt a semi amount of pressure being the previous race planner, but this is most likely unfounded, but felt eye's might be on me, so to speak..... 
The events centre was bustling and I met up with many folk I knew. I realised I had forgotten my shorts to go over my tights, might be a little cold out there!! Oh well.... 
Kit was re-sorted, the odd item was taken out of the bag when we realised it wasn't as cold or windy as it might have been. We were early, we had too long to wait, but all was good. I was in fine fettle, if not a little tired, Tim was feeling the same, but he did have a little cough.. that was to develop over the night hours. 
The time came and Gary T eloquently set us off on our way, smiling that wry smile a planner does when he sets the runners off on a course. We knew we had a long night ahead of us and we knew that the race favourites Tom Gibbs and Sabrina Vejee's were starting only 10 mins behind us. That was a little pressure I didn't really want. 
Tim and I settled in, Tim stopped us making a 1st error on CP 1 and we were definitely on our way. CP2 was found, great, CP3 was found and another elite team were passed as they told me their start time I realised we were moving well. We had eaten 35 minutes into them already, little did I know they had been wandering looking for CP3 already... this was to change later on. CP4, we over shot it, found a wall, relocated and came back at it, missed it, went back to the wall, re-located and then found it this time... time is always ticking and Tom and Sab's were on our tail. They passed us just at CP5.... onto 6 and no problems here. Tim had tried to throw his map away between CP3 & CP4, luckily Kirsty, another elite entrant had picked it up, thanks Kirsty. 
Now it was my turn, I stuffed my map into my tights to put my waterproof on as the wind was picking up and I was losing temperature and wham, it shot out and the wind took it.... aaggghhhhh.... I have never lost a map ever, its the 1st time I have ever let one go and I wasn't about to let this one get away so I moved instantly into a sprint, almost on it, whoosh and the wind took it again, almost on it again and whoosh... the same deal, just about on it this time and DIVE... grab, I had it!
Ok, now back to find Tim, I could see and hear him in the distance behind me. We re-joined and carried on. I wasn't quite sure where I was now, so was navigating slightly by luck, Tim seemed on it. We came across a small ruined building and wham, relocation was instant, perfect to then find the next control CP7, which looked like it might be tricky. I found it hard to stay fully in touch with the map, Tim was doing better, but between us we hit the control bang on, nice work, this was going well..... (damn that thought... it was going to get tougher!)
CP8 was a cruel out and back Gary, but Tim reminded me of the cruel out and back on Skiddaw the year before, when I had planned it!! Touché! 
CP9 looked ok, safe Nav would take us up a path and then drop down the stream onto it, but Tim had an altimeter, handy in this vis (I never use one), but we went on a height and traversed the open fell, using a stream as a marker/collecting feature/attack point before the actual control on a stream bend, I paced... 800m... no stream... it should have been here... 1200m a stream... this should have been the actual stream, but we hadn't found the first... Tim was on the altimeter like a hawk on a mouse, 1400m, 1500m... where was that stream... the realisation dawned, the bog I had fallen into nearly, when Tim made some comment about the stream was the 1st stream.. surely, we had gone too far... team discussion.... about turn, find stream and walk up to find the control, CP9 was now located. 10 to 15 mins lost!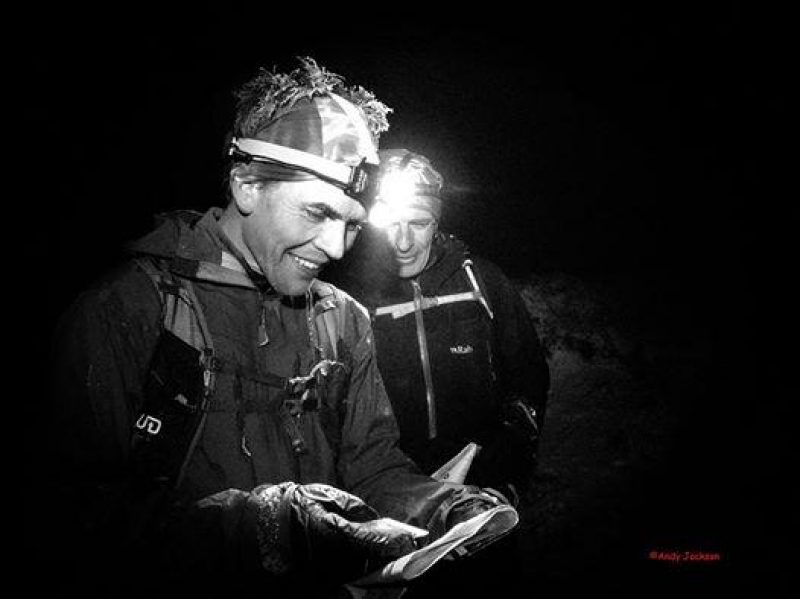 We'd got cold feet now and we were grinding down. Tim was coughing more and more and was suffering, feeling like he wanted to sleep. The grip of the night was upon us. 
CP10 was a hard cairn, we switched off mentally got a few minutes along the Pennine Way and ran past the stream we needed to use to handrail up.. another 5 to 10 mins lost here!
We found the cairn pretty quick, we were 100m to the left... more errors, things were getting tougher all the time. CP11 looked like a real pig. Navigating across open moorland covered in heather, with streams everywhere. If you know this type of terrain its really difficult to know if the streams are really those that are mapped. No real land marks to break it all down, an area of stone, some streams... woah we're free wheeling... Tim are you in touch with the map?? Not really... neither am I.... shit.... we find a stream, follow it, it doesn't fell right, it turns the wrong way, we make an adjustment, the same thing happens, where the hell are we... shit... We have a sense check, we suss and assume, we make some choices and finally we find the stream we want and follow it. We bump into others and by good nav and a little luck we find CP11. We had been playing catch/tag here with Bo and Kerstin, some Swedish competitors and friends. We found them again and just coming into the CP behind them.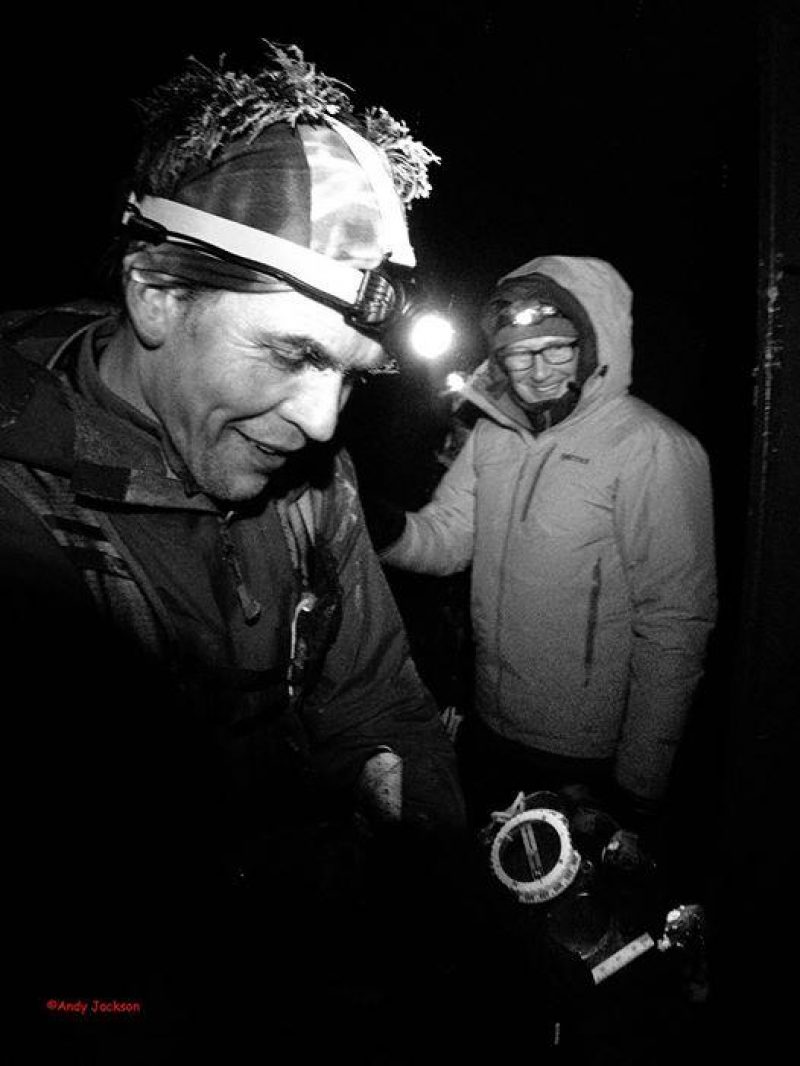 For me CP11 was like an Ourea Events re-union, I saw many folk I knew and it would have been the perfect place to polish a bottle of malt off, but as luck would have it, the party tipple was Little Dave's mums famous cake (Sean O'Conor... come on down!!) and so we escaped the whisky and the disqualification and kept moving on into the night across open terrain with me pushing to get Bo and Kerstin back within reach. (no one had whisky by the way... this was a mirage in my mind!!)
In my eagerness, especially as we overtook Bo and Kerstin on this leg, I pulled us straight across the Pennine Way (which was so bloody obvious once I thought about it in hindsight) and 200 to 300m alway from the control. We about turned, found the PW, found the control... next! Eagerness and speed got the better of me for the next few controls. I felt like we were racing Bo and Kerstin in real time here, though we had an hour or so on them, so haste would have prevailed. We overshot CP13 by meters.... foundered, lost time and found it. 
Tim and I disagreed on CP13 to CP14 and took my route choice, there were 2 options, hindsight says the 2nd/Tim's route was the better choice. 
We re-found Bo & Kerstin at CP14 looking for the 'Re-Entrant'!! on the side of Dufton Pike.... finally we found it. We had walked over it, under it and then it was there. 
We moved with Bo & Kerstin to CP15, Tim had a food dip, he couldn't get anything down, he was struggling, he'd lost his water bottle so I mixed his 'com-plan' in mine and he got some energy back in the tanks. 
CP15 should have been easy to find, but we over shot, we floundered again, backwards, forwards, back again, the other way... shit.. where the hell is it... up here.. no, back there, try again..... ok stop, take stock, think.. stop panicking, think..... woah.... how can we miss the obvious features, back to basics, think again and finally we have it... that was so silly, 15 to 20 minutes lost here! 
CP16 and we're on it... Tim does something with his jacket and oh no... where is his map.... tiredness is definitely taking its toll and his cough is getting worse... Keep moving and CP17 is under us, we nearly run past it and Tim catch sight of it less than 5m's away to our left.. vis must be bad, really bad. 
CP17 and we on it, off to 18 and Tim has my map.. I'm happy to switch off for a while.. big error. Tim gives us a bearing as we clamber through the marked gap in the wall. We head up to the top of the ridge edge of High Cup Nick... Tim says its above us, what height Charlie.. I have the map again and shout its at 530m, what height are we at? 590m Tim shouts... aaggghhhh... why did I switch off, Tim feels the same!
We find it.. another 10mins or more lost here and so we head onto CP19, found...off to CP20... home is in sight. Daylight is here. We want to sleep, but I still have Bo and Kerstin in my sights... we must get them back... we must. 
Gary T planned the next control perfectly. Marked wall crossings are hard to see with the purple lines on the map, lazy eyes, tired minds and we head slightly uphill for a track and a wall only to see its an uncrossable boundary... we make a split decision and go up.... maybe we should have gone down, but up seems less ascent and this seems easier for now.. its more distance, but we have a great down hill after that... the die is cast, we're on our way.. the ascent takes bloody ages... eventually we make the path, we cross the boundary and we head to CP 20..... 
Bingo.. here are Bo and Kerstin, we have them reeled back in and I'm smiling inside now, the pushing hard has paid off physically. 
We find CP21 together, we all laugh about some crazy nav choices and we head for the events centre. I push still a little and we run past some army guys camping... one says 'your here finally' and my blood boils in an instant... what does he know about what we've just been through... but I let it all go.. I relax, I slow slightly for Tim, we run together down the road and 'high 5 Gary T' who is driving past in his van and finally we're on the last straight and dibbing that finishing box.... at which point my wife, Nicola, holding my son Winter in her arms is standing there shouting 'Surprise'!! I'm about to break down, but I bite my lip... its been an emotional night and Tim and I are spent... 
So, what have I learnt? 
What could we have done better? 
Safe navigation is everything sometimes, especially in the CLAG, and this was a big error we made on CP9, we should have used the track and the stream. It was slightly longer, but the terrain was better plus the vis was so bad, it was the more clever choice. 
Same goes for CP 5 actually, we should have nav'ed for the wall straight away and then took a bearing straight back on to the control, we might have picked it up on the way, but we would have been quicker by a few minutes, 5 or more. 
CP10 we made an error on, just switching off. We were most likely talking... no room for idle chit chat on an event like this. 
CP 11 was tough... I felt we did the best we could here... it was just tough. 
CP 12 to 14 I just pushed too hard on.. I got spooked by Bo and Kerstin and was trying to chase Tom and Sabs.... lesson here... Run your own race! (Thanks for those words Tim!!)
CP 15... slow down, use obvious features, stay in touch with the map.... (tiredness was taking hold)
My pacing was out.... but I did keep on forgetting my pacing..... tiredness again. 
All in all we made some good nav choices, we made a few errors and they were compounded by tiredness, adrenaline, pressure and well, the weather didn't help any... but ultimately its just not being in full concentration all the time and this is certainly a hard thing to keep on top of. 
All I do know is I'm looking forward to 2018 already and bettering what we didn't on the night of the 28th Jan 2017. 
Thanks go to my partner Tim... we really made a solid team and not bad considering we hadn't raced together before! 
Looking to better your own navigation techniques, skills and choices? 
Book on our next Mountain Marathon course billed for the 22/23rd April 2017
Need a flavour of the event.... see below