As this is my first time working as an Race Director for the Keswick Mountain Festival Trail Races I haven't subsequent years to look back on, however I guess its always good to start the report with 'Thanks' to my volunteers.
Events like the KMF Trail Races would not be possible, or end up much more expensive for you, the competitor, without the valued time our race marshal's volunteer to ensure races run as smoothly as possible. So a big thanks to my race marshal team who were, in no apparent order (the list, not the team!), Richard Hamer, Charlotte Webb (Wilfs), Jon Paul Challinor, Gaynor Prior (Pure Outdoor Events), Laura Ruxton, Suzanne Airey, Michael Stevenson & Graham Watson. There was most likely to be some bits missed in the first year of running an event, but having an experienced marshal's team meant I felt very confident that any slack that might appear during the day would be picked up and dealt with. Thanks guys for working so hard & your and picking those loose ends up.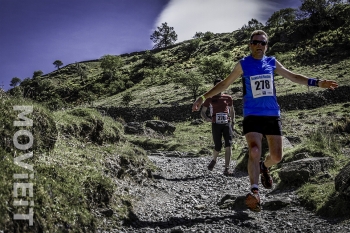 I also had two very experienced safety officers out on the course, over looking the runners & making sure everyone was ok, they were Joe Faulkner (Nav4Adventure) & Stuart Smith (Adventure in Mind). Again thank you guys for your watchful eyes.
The first time holding an event is always nerve racking, as there will be inevitably things overlooked. When your holding 3 courses in one day, all with different start times & difficult time constraints back at the events centre finish, then it adds extra issues that can go wrong. As the Race Director it is my job to make sure I have a good team of people around me, to make sure the courses are fantastic & to make sure the day runs as smoothly as possible, without too many glitches. All good plans can go to waste in the blink of an eye, or a journey home the evening before the race.
Course Markings: This was the first time I have used the flags we did use, to mark courses, so it is interesting to understand what the competitors thought about them as well. From a race planners/directors way of thinking, plus the man who placed a vast majority of them in the ground, they were a perfect solution to how to mark courses, especially the 42km which visited some pretty remote area's in the Lakes and they stayed in the ground well, until moved by either sheep (flags nibbled & dropped) or by human intervention. I'm not quite sure why, but it seems some people find it amusing to move flags, so the courses are incorrect. We experienced this around Rosthwaite and on the final section back into Keswick after the Catbells CP. Its pretty `annoying, but apparently not uncommon for runner to be diverted either by people having a laugh, or maybe not accepting of the race and deciding to divert the course in order to upset the apple cart, so to speak. All I can say to the competitors who got wrong footed by the miss placed flags & missing tape finish into Keswick is sorry, its very annoying for both you and me.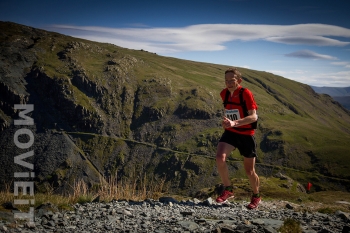 What can we do next year to combat this problem? Its a tough nut to crack, but we plan to have all the flags sticker'ed up, saying "safety marker for KMT Trail Races, please do not remove", on top of this we will be placing more Blue/Pink arrows around the courses as directional change markers, as we found the course flags were missed in places, where there were junctions/directional changes, and runners took the incorrect route. This possibly meant some runners didn't complete the correct course, or more annoyingly for the runners concerned, they had to re-trace their steps & had added distance to the route. This was certainly the case for the 42km runners.
However, the 42km course was listed as navigational experience necessary & all runners should have had a map & compass or a GPS. There was a GPX file available for download on Mountain Runs website, but I understand some competitors had trouble with the file, it seemed like it was corrupted for some. There was also a map available online, but comments from competitors close to the day were that the map was not detailed enough. All these issues will be addressed for 2015, to ensure better course markings, an easily accessible & downloadable GPX file & a much better map online for runners to be able to plot there own course on a map supplied by themselves.
Maps were available of the route at the registration tent, but it was not big enough for all to see, again we will address this for 2015 & have A3 or bigger maps at the registration tent, so runner can copy the route to their own map.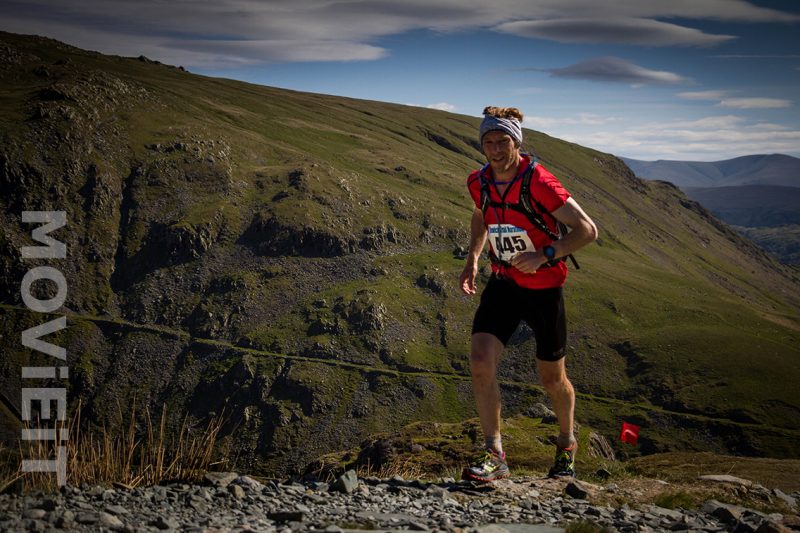 The Boat Ride: This seems to have gone down famously, its a great way to start the race & put everyone in a fantastic mood. Folk were chatting & taking in the view as we crossed Derwent Water to reach Low Brandlehow, unfortunately due to winter storms & lack of time, the Low Brandlehow jetty was damaged & we couldn't land there, so it was a drop off at Hawesend Jetty & a 5 minute walk to the start, good to get the legs settled in for the task ahead. Low Brandlehow Point was a great start location, it really framed the journey ahead, which for all runners took the woodland/lake shore paths of Lowbrandle & Manesty Woods, before the courses separated & wound their respective routes.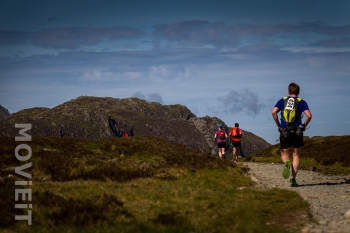 The Finish: I've touched on the taping issue at the finishing section, from Catbells CP to Keswick, but I would really like to apologies to any runner who found it difficult, got of course or found themselves in the throngs of holiday makers in Keswick wondering were Crow Park & the finish was. Not only was this very annoying for any who encountered this problem, but it was a massive failing on our part. Taping was placed out that morning, lots of it was removed.
Comments have been fed back to me that not only was it hard to follow the taping, due to the lack of it, but that it was too much to swap from looking for flags to looking for taping in the final throws of the race, the tireder you become, the harder it is to spot a new method. This is a very good point, for 2015 we will be using a mixture of flags & pink/blue KMF arrows, with a little taping were we feel its needed. Taping looks messy to residents, possibly this is why taping disappeared.
At the actual finish line we had quite a few runners, at least 12, head off with their SI Chips still in their hands/around their necks. This meant we had 12 people outstanding from the 10 & 22km races at 18:00. We could have panicked, but using cool heads & mobile phones, I tracked the respective chip holders down. All had finished safely & all had had a great time. I'd just like to re-iterate the importance of the chips & why they must be handed in at the finish. The SI system allows us to know at the push of a button, who has started the race, who has finished & who is still outstanding, from a safety point of view this means we can call in the emergency services quickly, should we need to. It allows us confidence that we know where all our competitors are. Where there are CP's with SI boxes, as on the 42km course, it allows us to know which was the last CP a runner visited, should they have gone amiss. Its a safety system for you & us! If you forget & walk off with your chip, the system shows you as outstanding, its not alarming unless we can't contact you. We will have a smoother system next year to make sure you hand the chips in, but if you could all make a mental note to hand your chip in once finished, then we're covering each others backs.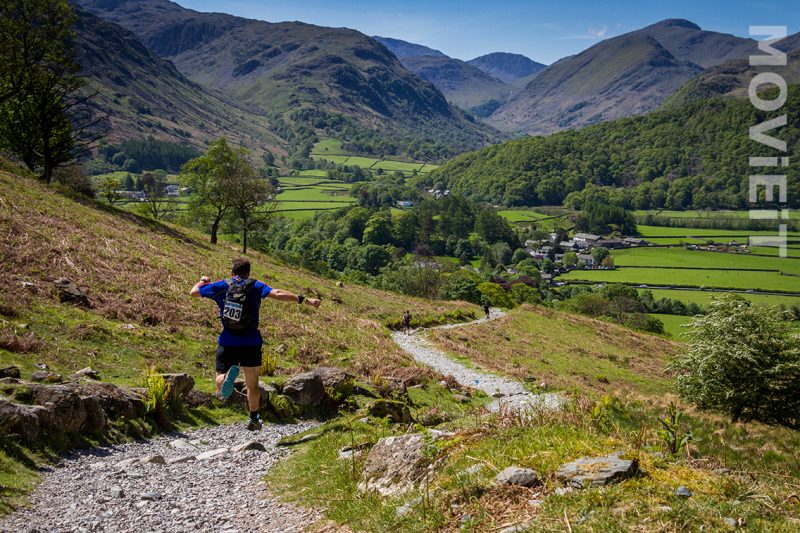 Farmers & Land Owners: Our event wouldn't be possible without the special help of the marshal volunteers, as I've written above, but more importantly, we wouldn't have a race at all if it weren't for the kind permissions of the farmers who look after this very special place we run in, or the land owners for granting permission to run & access these, in some places, remote & amazingly beautiful landscapes we are so blessed to have. So a big thanks to all the land owners & farmers concerned.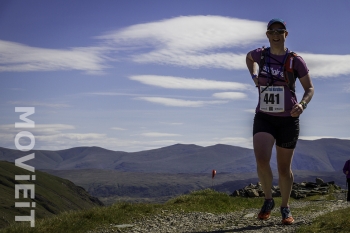 Litter & Gates: After certain events I've seen happen in the Lakes, its been obvious to me that litter is dropped, most likely not intentionally, but it happens. I'm really pleased to say that I didn't find any litter around the courses that I stripped, this being the 42 & 22km courses, so a big thanks to you all for taking extra special care. Neither did I find a gate left open were it shouldn't have been. These two factors are very important for the continuation of events like this, so give yourselves a big pat on the back from KMF!
For us to improve the race, year on year, its very important to get your feedback, good or bad. Please email us at enquiries@mountainrun.co.uk and let us know how your race went & what you thought about it all.
For us to improve the race, year on year, its very important to get your feedback, good or bad. Please email us at enquiries@mountainrun.co.uk and let us know how your race went & what you thought about it all.
Well earned rest: As the rest of you continue on through the racing calendar, I'm taking a well earned rest. After a very busy 3 months, which has included, renovating as house, working very hard on the Great Lakeland 3Day Challenge (GL3D), then straight into moving into the renovated house & then setting up, RD'ing & stripping courses for the KMF Trail Races I have finally melted down, hence the delay in this report. Enjoy the rest of your season, you'll see me again on the Marmot24, Berghaus Trail Chase & Rab Mountain Marathon later in the year, but for june its some R&R & settle into our new house.
Happy running over the summer months,
See you at KMF 2015!
Charlie
Need navigation training? Book yourself on one of our courses.
Thanks to Steve Ashworth from MovieIt for the images on this blog.