Helvellyn via Striding & Swirral Edge:
The Edges of Helvellyn are dangerous places, the round is considered a grade 1 winter mountaineering day out. It involves balance & good skills to undertake in winter conditions. Its also an absolute classic & should be on every mountain runners winter tick list.
Conditions as of Saturday 27th December 2014, 17:00:
The snow line is roughly 600m, on the approach to Red Tarn snow is well settled on the path & trodden hard. Kahtoola Microspikes were worn from around 600m on the ascent. The ground is still not quite frozen on the ascent from Red Tarn to Striding Edge.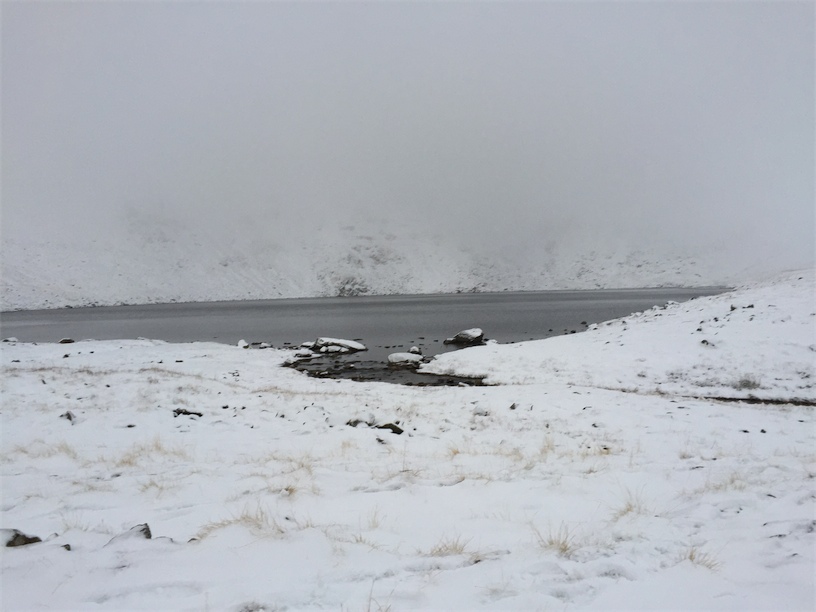 Striding Edge & the access paths have a general cover of a few centimetres, but there are drifts all the way along the Edge, overlying verglassed rock. Care is definitely needed for a true traverse of the edge. Kahtoola Microspikes were definitely helpful & gave good traction. A small axe was used to ascent the final slope from Striding Edge to Helvellyn, but it could have been done without, however a slip could not be controlled without, so an axe was really necessary on that basis.
The exit slope to Helvellyn is new snow overlying old snow, there was a breakable layer, but too little lyes at the point of my run to worry about slippage. All the snow that has fallen is wet, rather than dry, and is collected nicely in the cracks, fissures & on the crags & lying ground around the Red Tarn Bowl.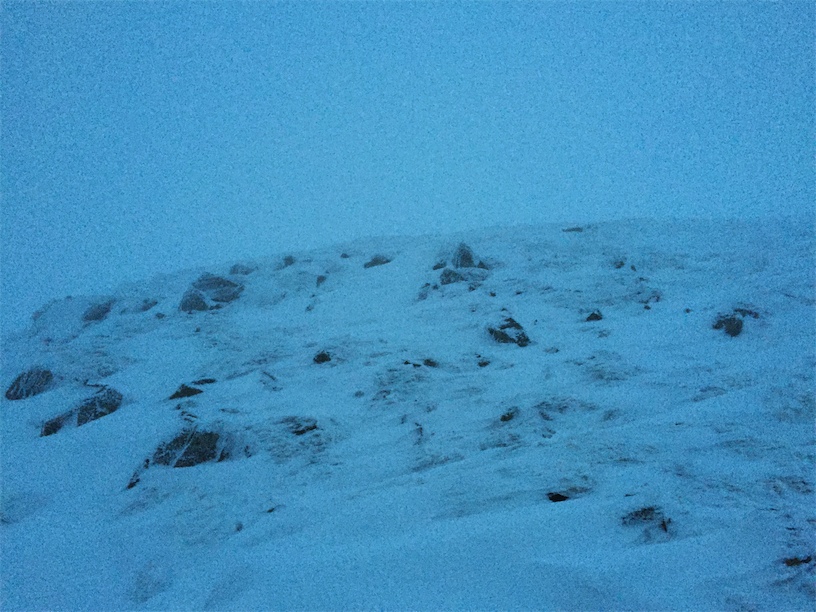 The summit plateau is covered with fresh snow, only a few centimetres, but this is overlying thick verglassed rock. Swirral Edge was easy to locate & the entrance/exit slope was stripped back from what it was a week ago, most of the old snow being completely gone. The snow that is now in its place has been packed in the cracks etc well & this again is overlying verglassed rock. The turf at the top of the entrance/exit is not quite frozen, but well on its way.
The track descending Swirral Edge to Red Tarn was excellent running, more snow will just help it get softer & softer.
As the weather looks quite settled for the next few days, it looks like there will be some great running to be had & possibly a little more snow!
More images are available on out Facebook Page

** This conditions report is only designed as an information gathering service, we are not trying to encourage others to replicate what we might do or advise whether you should head out or not. This is merely information to help you make a more informed choice when heading out in to the mountains during the winter months.
Full winter clothing & equipment appropriate to the conditions should always be worn & carried. Map & compass should always be to hand & the carrier should know how to use them WELL.
Remember to check local & national weather reports before heading out, here's a few of our favourites:
Mountain Weather Information Services