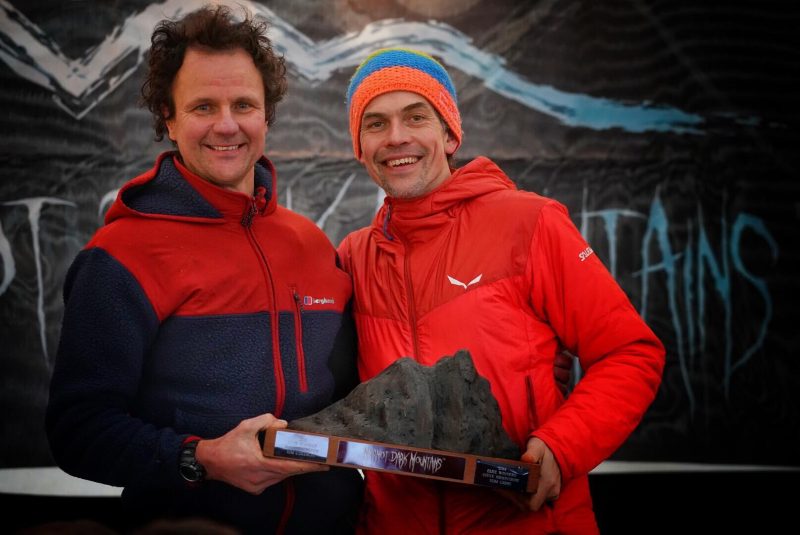 Some history;
The Marmot Dark Mountains is the perfect race for me. It combines many years of experience and skills learnt on the hoof, as a race planner and organiser and as a keen mountain marathon runner since 2003.
I remember clearly in 2012, after I had planned and both Shane and I had delivered the Great Lakeland 3 Day Challenge for the first time together. Shane propositioned me as the planner for a new event idea he had. This was in the days of the conception of Ourea Events. The event we discussed was the Dark Mountains. He told me the idea and I said something like; "Are you sure about this? It sounds pretty crazy! Will anyone out there want to take part?" We were driving back from the events centre of the 1st 'Ourea Events' GL3D over the South Western Fells of the Lake District and Shane had identified this as the possible area. I spent the next 6 months working the courses, planning the routes, checking 'control' locations and testing the routes at night, during winter, solo (well, with my dogs)
I was extreme proud and full of fear, excitement and trepidation as we delivered the 1st event to 55 teams of hardy mountain marathon runners. There was a severe storm, snow into very heavy rain. The conditions were epic and we had a fantastic 48% completion rate, no fatalities and everyone entered exercised 'Sound Mountain Judgement' to coin a Joe Faulkner phase.
Marmot Dark Mountains 2013 Results
I spent the subsequent years planning the 2015 and 2016 events.
Jump forwards to 2019.....
Steve sent me an email, asking if I wanted a late entry into the MDM 2019. I'd been deliberating between SkiMo in Glenshee, Scotland or the MDM 2019 on home turf. I decided to commit and entered the MDM with Steve.
Snow arrived the week before the event. This left me in a quandary, enjoy the snow on skis or rest for the MDM.... when there is snow around, I can't help myself and skiing ensued.
The weekend came fast, nerves built up throughout the Saturday as I prepped all my kit for the nights running ahead. I spent a lot of time doing this, making sure my OMM Kamleika Pants were waterproof (they had several holes from crampons and ice axes), checking my kit, re-checking my kit. Trying to slim down what I was taking, but this is one of the hardest events to do this on. Running light could mean severe suffering or dropping out of the event during the night. Running hot on the MDM is a good idea, this means wearing more then what you perceive is necessary, but carrying too much could render you tired towards the end of the night and suffering physically. I was also nervous about running with Steve, he is so experienced in MM's and has won many elite classes across the MM scene, I was nervous I would just be following Steve, whilst he dragged me round.
This is the one Mountain Marathon event in recent years that has made me really nervous, not of the conditions or area, but of the race, competition and would I match up to it.
So in preparation, the week of the event on the Monday, we had a guided night run around Striding and Swirral Edge, snow conditions had changed so I had to take a look, so I did a round of the Edges in the afternoon with my wife, Nicola. The we had 10 clients arrive for a run around the Edges during a projected snow storm, so we took the clients on a lower level route.
That night put a lot of snow down and the following day I was tired, but there was snow on the ground, so Nicola and I headed out for a tour up to Red Tarn. On the Wednesday I couldn't resist, so I went again, this time up to the top of Helvellyn and had a couple of good descents, skiing both days back down to 400m.
I had to make myself rest Thursday and Friday, but I knew I could be struggling with Steve, trying to keep up and be mentally tired as well.
As mentioned above, I went through my kit more than I ever do, re-waterproofing seems, slimming everything down, but trying to make sure I had enough if conditions warranted it.
On the run up to an MM or any other Ultra distance race I lay out desired kit, the selection I expect to use (this is often the mandatory kit only, but on the Dark Mountains its always a little more) and then some extra bits and pieces of clothing and equipment for if the weather is really foul or really nice.
I haven't prepped like I did for this event ever I don't think. I knew we had a chance of doing well and I wanted to make sure I had every chance of navigating and running well.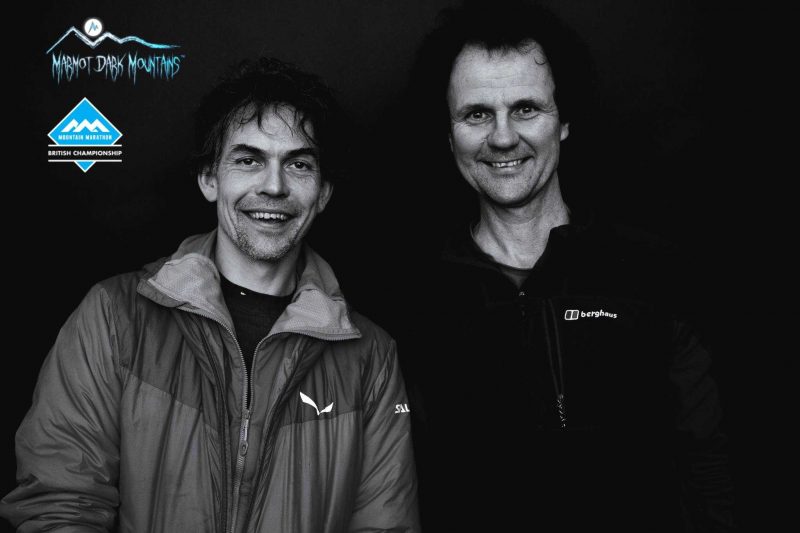 The event;
Steve and I met at the events centre, I took the tent, Steve too the rest of the shared mandatory kit. We sorted ourselves and got ready to go.
The weather had rained hard the previous day, stripping all the lying snow and leaving us wet cold ground. The forecast said warm, rain, then around 11pm we would see a marked drop in temperature, snow and high winds coming through. This made it mildly difficult to know what to run in to start.
We started in only waterproof tops, both of us had tights, mine 3/4's. The first bit was marked, down through the woods from Lowther and through Askham, once leaving Askham we then joined the fell proper. I knew this would be the telling time. Steve is a great orienteer and he pushed the pace with me hanging onto the back of his pack, trying to keep up with the navigation and pace. I was in-contact with the map and then out of contact almost every 5 minute. My hamstrings were screaming at me and I was out of breath. I was suffering from everything earlier in the week and we'd not been going for more than 30 mins! I thought at this point I was in for a long night of suffering.
By control 3 we had caught one of our competitive teams and overtook them on the way to control 4. I was now starting to settle in a bit, my heart was coming down in bpm, my breathing was settling and I was now most of the time in contact with the map. From control 4 to 5 I took over the lead on the navigation, now I was feeling good, mentally and physically. Everything was pretty fast paced now and tracks down the west shore of Haweswater gave is fast running, so we kept moving at pace.
During this time the rain had increased and we were getting wet, but the running was good, the pace was good, so why slow up yet... but our tights were getting pretty soaked [error number 1].
Control 7 took us back onto the fell, there was a sharp climb and here again I took the lead roll, Steve took the hill steady and I took the roll of navigation and pushing the pace. I really started to feel good now. As we climbed the temps dropped, we'd felt it 15 or 20 mins earlier but kept running. The ascent kept our temperature up and I led us into control 7. We both now were cold, so moved on not to 'mark the CP' and stopped behind a boulder to get some more clothing on.
This was a turning point for us both a little. Steve was colder than I. We put on waterproof trousers and its then I realise just how wet my legs were. I also needed to put on my primaloft spare top, which meant I had no other spare to put on if it got colder. Mitts went on and then I was ready to go. Steve was struggling with his gloves. I had lost feeling in one hand and was swinging my arms to get blood back into my finger tips. Steve was still really struggling with his gloves and shivering. Nothing to it, I got out a pair of Dachstien Mitts, my spare mitts, and got them on Steve's hands that were now only plates of meat. He asked me to lead, but keep the pace a little easier as he wasn't feeling so great, and asked me to navigate for a while, as he couldn't use his hands. We both knew without saying, that we were on the edge now, both cold, both with wet legs, both with most of our warm stuff on.
The next couple of controls were pretty technical, but ok. The snow was falling fast and blowing into our faces, the ground was becoming harder to keep a handle on with the snow falling, but I was generally in contact with the map.
Near control 8, we met up with our main competition as we had lost quite a bit of time getting kit on and sorting ourselves and it felt like the pressure was really on. We had 6 minutes on them, but 6 minutes is nothing when you have around 7+ hours still out on the fell.
Control 8 was found and Ally and Ian took a lower line to the next, we opted for keeping our height, dropping on to control 9 where we met Ian and Ally again. It was a real game of cat and mouse, but control 10 seemed to be the teller. Very technical and easy to miss. Thick snow falling, there were several options but we decided on straight to it. I was still lead navigator and I managed to hit it straight on. 10 despatched and swiftly we were on to 11, 12 and then to 13. A cheeky little knoll called 'The Knight', Steve was now back on form and took over the navigation again here, taking us directly to it. We kept to a safe option, using tracks and trails rather than the direct line from 12.
From 13 we were moving really well but the ascent to 14 was cruel, an out and back with some interesting lines to use, everything seemed to be working well. For Steve its maybe a normal affair, but for me I was working it out that we seemed to be in front, no tracks led to the controls we were visiting in the direction we were moving. I didn't want this to go to my head, but I kept a careful eye on if we were being followed and it seemed not. 15 despatched and then on to 16. A hard ascent, no real way around it, so I pushed the pace and led Steve up the hill. As we summited my energy for the first time started to flag, since my legs had suffered initially, and again Steve took the lead. His navigation was spot on and we were on top of 16 in no time. I led us away from the control towards 17, a crucial control. It looked very easy to miss in the myriad of paths and trails that exist on Askham Fell. I really thought I was on it, laying a rough bearing on the footpath I thought we needed to follow and I was really confident about it, but as it was now around 05:30 in the morning I guess I was making assumptions and fitting the map/paths/surroundings to what i emotionally wanted them to be. Steve raised a concern, we acted on it, moved more distance than we thought we should have to and backtracked to the previous stream (the control was on a stream/path junction), we got back there but no control and this is when we got tired, Steve sugar crashed, I was lacking confidence and so was Steve. Back again... no stream we could find in the distance we thought it was and so back we went again to the other stream... only to find a wall??? A wall? Quick checking of the map and the realisation hit us both. We both knew exactly where we were and I had been wrong all along. This time we had a fixed point to go from and back onto a compass bearing and we hit the control directly this time round. We recon we lost between 15 to 25 minutes here.
Steve was now suffering with lack of sugars, tiredness and general fatigue. We took care to make everything safe and ticked off the final 2 controls on the fell pretty slickly, only 18 causing a little difficulty.
Finally back in Askham and through the village, dropping down the dell before coming back up to Lowther Castle and the final control and 'oh so cruel' slightly uphill finish. The type you know you have to run, but with over 11 hours out on the fell and plenty of distance and ascent, you have to muster all your determination to keep it going.
We crossed the line. Shane was waiting to see us in and I knew this meant we were most likely the first Elite's to cross the line. We had won in essence, unless there was anyone else who started after us, catching us all the way round.
We waited a short period and then it became clear, we had won the Elite Class Marmot Dark Mountains.
I've won the Highlander Long Score in the past, taken the win at the LAMM in the B Class, both with Laurence Friel, I've had some high placements in races and even managed an Elite OMM Vet's win, but never taken the overall elite class win at any MM, so it was a real pleasure to win this on my home fells.
I think the really pleasing thing was, I didn't just follow Steve round (and I've been ribbed a fair bit about this by friends), Steve and I worked as a real pair, bouncing off each other, checking lines and decisions with each other, setting pace and following, looking after each others needs and really gelling together. It is and was a really special win.
Steve has inspired me in the past and given me knowledge and confidence to do some of the stuff I've done, so it was so great to run with him as a contemporary.
Lesson's learned:
Don't tire out your legs and body prior to an event (I knew this, but couldn't help myself)
Put waterproof trousers on straight away when its raining as this could have cost us the race
Practice fast pace navigation prior to the event (I was definitely rusty and felt this at the start)
Check and double check any decisions and bearings, thereby minimising any errors
Take time to find the final controls as the pressure thats on when you mess up later on is really tough and it knocks your confidence on decision making. Making errors here can cost you 'double time'!
Clothing and Equipment used:
Worn;
Stance winter yarn socks
Neoprene socks (over the top of the Stance socks, as cold feet are the worst and it sucks so much heat out of you when you have frozen feet!)
Dynafit 3/4 light base layer tights (know yourself, I get really hot with full length tights unless its REALLY cold)
Montane Trail Shorts (keep the wind out and the old man warm!)
Craft high neck light base layer (bit like the old 'Smelly Helly')
Dynafit MEZZALAMA 2 POLARTEC® ALPHA® JACKET (wind top with insulation in the front)
Dynafit GLOCKNER ULTRA SHAKEDRY™ JACKET (extremey light and extremely breathable)
OMM Kamleika Pants - best running waterproof bottoms ever!
Montane Fireball Smock (the original primaloft top for runners) - the link takes you to the new version
Montane Punk Balaclava (best winter headgear available)
Silva Exceed 3XT Headlamp - 1500 lumens. 2 batteries used. Amazing unit, battery stays in your pocket or pack to stay warm!
OR waterproof fleece lined mitts
Inov8 Artic Claw (awesome grip for winter running, but don't overuse on Lakeland rock as they do tear the rock up - no joke!)
Carried;
Ultimate Direction Fastpack 20 (loads of pocket, storage and carry options, carries really well)
2 pairs spare gloves (as well as one worn on event)
2 spare hats (one worn during the event)
Steve's tent - Think Terra Nova Laser II
First aid kit - only race requirements
Bottle for water/hydration drinks (only fill once I'm thirsty, hydrate before you run, every 1ml of water = 1g in weight. 1 litre water = 1kg extra to carry)
Food for 12 hours (I always take too much, but better to have too much than too little - have different choices, not all the same)
Spare battery for headlamp
OMM Mountain Raid 1.0 - ultralight primaloft sleeping bag
Hydration used: Mountain Fuel RAW Energy and Mountain Fuel Jelly's